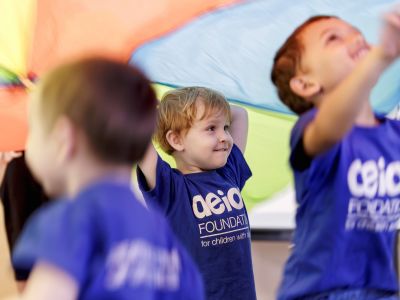 Written by AEIOU Foundation's General Manager, Shane Klintworth
Each April, AEIOU Foundation joins the global autism community to celebrate World Autism Awareness Day. In fact, the entire month of April is dedicated to autism awareness. We welcome the opportunity to bring our community together and reflect on the unique and shared experiences of families raising a child with autism. We recognise the challenges, which are real. And we celebrate the triumphs, for there are many.
We had to scale things back this year, but we went ahead with centre-based celebrations across our 10 services in Queensland and in South Australia. Each got creative, and whether it was an Avengers theme in Townsville, a Pyjama Party in Bundaberg or a Blue Dress-Up day at Logan, there was tremendous fun for all. And, on April 2, we were part of the world-wide Light it up Blue campaign, where people across the globe turn their eyes skyward to see famous landmarks lit up blue in major capital cities everywhere. Here in Brisbane, the Victoria Bridge, Kurilpa Bridge and Brisbane City Hall building lit up as part of this campaign.
Yet, this all came at a time where AEIOU as an organisation, and the families we support, needed to make some very big adjustments to their lives very quickly as we faced the COVID-19 health pandemic.
At AEIOU, we knew it would be challenging. Our focus was to steer our team and families through this time together, in a manner which would ensure we would not only survive this climate but emerge in good shape. Despite rapid changes, we avoided chaos: each team member stepped up. We aren't out of the woods, but we're confident we can continue delivering quality services to all of our families.
As part of our response, we adjusted our policies and procedures and implemented new systems to ensure our centres were safe for children, families and staff. We put together a back-up plan, asking ourselves how we would support our families remotely if we were forced to close our centres.
Something I'm very proud of, is the creation of an entirely new service for those families who needed to stay home in isolation. AEIOU@Home launched to those families on Monday April 20. This was developed and released in a very short period of time, but offers great quality, with individualised therapy support and access to classroom activities, in addition to training. We also launched a support line for families, to ensure they could phone our specialist team for personalised support. All of this demonstrates the commitment from our team to provide the best care to our families every step of the way.
There were many times the generosity, support and appreciation expressed by our families to our teams touched my heart. Staff received grocery staples, flowers and gifts of appreciation from parents and carers, keeping spirits buoyed at all times.
What COVID-19 has taught us and what we have reflected on during Autism Awareness Month is how lucky we are to be part of each family's journey. I joined AEIOU just as we prepared to mark 15 years of service. I have been impressed by AEIOU's unique, bold approach to early intervention and the genuine difference the staff make at the beginning of a child's life, setting foundations for growth that may not even be realised until many years later. Making this difference, and helping families move beyond their fears to ensure their children live to their potential, is what pulled me in.
Take a look at this video, filmed in anticipation of our 15th anniversary. Each of these young people are past students from AEIOU's first year of operation back in 2005. Now, 15 years later, Sheridan, Oliver and Joey have graduated from year 12 and have started the next chapter in what Oliver aptly describes as 'Big Life'.
There is potential for every child to shine, in their own way, big or small. At AEIOU, we get to help them to discover and see what their capabilities are, to go on the journey with them and help them take those vital next steps.
As Autism Awareness Month 2020 draws to a close, perhaps you will reflect on the month that was, how you managed, and the communities you are part of who supported you.
Tags: Autism, Early Intervention, ASD, Covid-19
Related Articles