The Kahler Family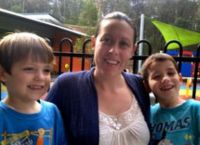 We have three sons. Brennan is 4 years old and the twins Adam and Damon are 3.
In 2010 Adam and Damon were diagnosed with Autistic Disorder. In hind sight Matt and I can tell you things that were "different" about the twins almost from birth. Unlike normal newborns they didn't snuggle against you but rather pushed away and cried. They made little eye contact and didn't show much interest in us and the world around them. They were slow to meet all their milestones but we became concerned when at 18 months they still weren't even babbling at us. They had just turned 2 when we took them to the paediatrician which then started our long and emotional journey with this disability.
The first time specialists raised the possibility of Autism with us we were shell shocked. It was like being physically hit, at that stage our only experience with this disability was the movie "Rain Man". To be told that not one but two of our beautiful babies were going to face a world of challenges we couldn't even imagine was a terrifying and devastating moment. Matthew and I have cried a river full of tears over the last year.
Like any mother I was determined to do all that I could to help my little boys and I started researching like a mad thing. I trolled the internet, I went to courses and I read and read. I started taking the twins to speech therapy and occupational therapy which was just 1 half hour session of each once a week. At $150 a session it was so costly. But the more I learned the more I saw that this was not enough, they needed at least 25 hours a week of therapy each. Which, if all done by professional private therapists, for 2 boys would have cost $7500 dollars a week. I have a good private health fund but not that good!
So I did what I thought was the next best thing, I brought the toys, DVD's and the flash cards, everything the occupational therapist and speech therapist recommended. I watched the therapists like a hawk during the sessions and I tried to do it at home. I became the twins' therapist first and their mother second.
It was so overwhelming, I never felt like it was enough and I was still trying to work part time. It got to the stage where if I took the 3 boys to the park and just let them play and have fun, I felt guilty, I felt like I was doing the twins harm or holding them back by giving myself that break. Worse still I was pushing Brennan away, I would hear myself say things like "not now Bren, Mummy needs to finish with Adam" or "Brennan be quiet, go watch TV I have to do some exercises with Damon". It got to a stage where Brennan would beg "Please mummy can I do exercises with you too?"
Matt is always so supportive and always says with such conviction that I could have done it, but it was such a dark place to be. Autism was the first thing I thought of when I woke in the morning and the last thing I thought of before I fell asleep. The pressure was enormous and for me the consequences of not getting it right to terrible to bear. I didn't want to be sitting here in 20 years time regretting that I didn't do enough.
Then I found AEIOU, the first time I was shown around the centre, I knew this was what my babies needed. I once heard a former AEIOU parent say the day they were offered a place at AEIOU felt like they had won the lotto. I have to say that is exactly what it was like, we grabbed at the opportunity like a life ring.
Our first day at AEIOU we arrived and watched our little boys be swept up in a wave of support and love. Everyone had made an effort to learn their names before they had even had their first day. It was the first time Adam had started a day in care without screaming and crying as I left. I left feeling lighter, I left feeling hope.
When they started at AEIOU at age two and a half, Damon had no words, not even mummy and Adam could say go and shoe. Now they both call me Mummy and much to Matt's delight he is finally Daddy. The first thing I noticed since they began at AEIOU was they listened more, tasks like getting them to the shower or the car became easier. They became more confident and with that happier.
Everyday they come home with new words. Adam has started toilet training and Damon has now discovered he can request help or more and that's exactly what he gets. They run to me for cuddles when I pick them up. And Brennan gets every Thursday to himself, just me and him.
My family are still in the early days of our life with Autism, we will and do still have hard days and we don't really know what the future holds for any of us or what the twins will be capable of achieving but for now they are in good hands.
When I talk with the staff at AEIOU they don't talk about what my boys can't do but rather what they can. They don't look at Adam and Damon and just see their disability they see their sweet affectionate personalities. They don't exclude my boys because they have Autism but include them because they are kids. And I know in 20 years time I will have done everything I could do to give them the very best start I possibly could.
What AEIOU gives my boys should not be a privilege for a child with Autism it should be, like a school education, a right. Because like a school education, early intervention is essential for a child with Autism. The Lynn Wright memorial fund allows even those who can't afford it a chance to see their children reach their full potential.
- Sam Kahler
Back to Stories
In Focus
From The Blog
13th Jul. 2023
In the spirit of reconciliation, we are committed to educating the children in...
From The Media Releases
12th Jul. 2023
AEIOU Foundation will expand the reach of its leading autism early intervention...