Enrolments at AEIOU
If your child has recently been diagnosed with autism and you are interested in enrolling your child at AEIOU, you are in the right place. You might have read about the benefits of early intervention and how AEIOU Foundation can support your child. Please call our Enrolments Officer on 1300 273 435 or email enrolments@aeiou.org.au to discuss how the service might work for your family.


A service that works for your family
Importantly, because autism affects each child differently, what works for one family may not work for yours, and vice versa. Consider our Guide to Selecting an early intervention service below.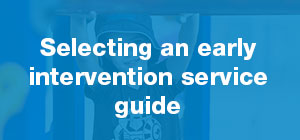 Why choose AEIOU? 
AEIOU Foundation offers a nurturing environment for your child and your family. Your child will receive therapy and education support with an emphasis on kindness and play, and you will receive the support and training you need to meet your goals at home. AEIOU is an NDIS-approved provider, and is recognised for delivering a quality service. For details on our early intervention service, our curriculum, and our transdisciplinary approach, click here.
Open Days 
All AEIOU Foundation centres welcome visitors who are interested in finding out more about our early intervention service to our Open Days, held throughout the year. To find out when the next Open Day near you will be, check our AEIOU Calendar. 
Fees
We strive to ensure AEIOU's service is affordable and accessible to all families. You can find information about our fees here. For a tailored quote of your estimated fees, please contact our Enrolments Officer today on 1300 273 435 or email enrolments@aeiou.org.au.
Enrolment enquiries
Once you have decided AEIOU is suitable for your family, or you would like to discuss it further, you are welcome to complete our online Enrolment Enquiry form. Shortly after we receive your submitted form, we will be in touch to discuss the next steps. Should you need to contact us, or if you have any queries about enrolments or the form, we can be reached by:
Phone: 1300 273 435
Post: Attn: Enrolments, PO Box 8072, Woolloongabba Qld 4102
Fax: (07) 3320 7599
Email: enrolments@aeiou.org.au  
Please note: submitting an Enrolment Enquiry form does not guarantee a place for your child at AEIOU.
Waitlists
Regrettably, a number of our centres in metropolitan areas have long waitlists of families wanting to access our service. We continue to actively lobby government at all levels to advocate for increased funding to ensure more places are available to the children who desperately need them. We strongly recommend you contact our Enrolments Officer on 1300 273 435, who will be able to advise you on centre waitlists.
In Focus
From The Blog
23rd Apr. 2021
Before starting at AEIOU in August last year, Blair's family believed that...
From The Blog
16th Apr. 2021
In our day-to-day at AEIOU, we're often confronted with myths and...