The Dionysius Family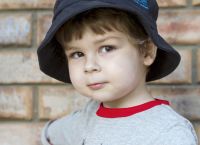 My husband and I travelled a long road to be blessed with our little man. When he was diagnosed with autism shortly before turning two, we cried with fear for what the future may hold. A year later, we have absolute confidence William will have a fulfilling, independent life and be a proud contributor. We credit AEIOU for unlocking the happy little boy within.
After many years of fertility treatment, we were consumed with joy when William was born. However, I vividly remember thinking something was different for our son as early as his six-week paediatrician appointment. William spent his early years living on the periphery. At playgroup he was reserved; never explored; was not interested in interacting with other children; never clapped or gestured and had minimal eye contact. One could have easily described him as a clumsy child, lacking the co-ordination and confidence of his peers.
Around his first birthday, William became obsessed with spinning items and wheels. He also engaged in repeated rocking; hand flapping and tapping the back of his head against walls. It was at this time I asked for a referral to a specialist, but my concerns were dismissed and I was informed William was simply 'quiet and reserved'. However, in the coming year, he became completely non-verbal and extremely distressed when in public.
I again raised my concerns and was referred to a developmental paediatrician, where William was diagnosed with moderate to severe autism shortly before his second birthday. My husband and I sat in the consultation room and cried for all the opportunities we feared our son would miss and the belief he was now more vulnerable.
From my first contact with AEIOU, I was certain it was the best option for our son. William started at the Camira centre at 2 years 8 months. We were relieved to discover the certainty of routine and how well-equipped the staff were to ensure a smooth transition. We also learned we had joined an amazing cohort of families who shared our experiences, held the same concerns and asked the same questions.
In the following months, William's eye contact increased to 95%; he now follows instruction; has become increasingly independent with self-care and routine tasks; has increased his variety of diet; is more tolerant to change and, aside from the occasional accident, is fully toilet trained.
He has approximately 200-300 words in his vocabulary and is structuring up to five word sentences. We continue to be amazed on a weekly basis with his development and new words spoken. In addition, his increased social awareness and interaction means he will now happily offer to make us cups of tea, coffee and cupcakes during play time.
AEIOU staff have given our son a sense of security, which in turn has allowed his beautiful personality to come to fruition. He has now blossomed into a happy, cheeky and vibrant toddler who will excitedly greet his friends by name. His advancements have further given us the confidence to broaden William's experience and expose him to new environments.
With our amazing achievements to date and the continued work of AEIOU, we have every confidence William will likely attend mainstream school and while he may have a few idiosyncrasies, truly believe his opportunities have no bounds.
To the future families of AEIOU, I encourage you to reach out, ask questions and don't feel disempowered. Take your beautiful children out and engage in the community. While these outings at times can be made more challenging due to the intolerance of others; they are by default raising ASD awareness.
By Elaine Dionysius
Back to Stories
In Focus
From The Blog
13th Jul. 2023
In the spirit of reconciliation, we are committed to educating the children in...
From The Media Releases
12th Jul. 2023
AEIOU Foundation will expand the reach of its leading autism early intervention...