You are not alone: our experience in early intervention - Jasmin Link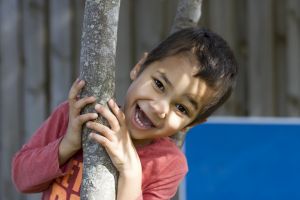 You are not alone: our experience in early intervention – by Jasmin Link
I'm grateful to be able to share my part of my son, Luke's, journey with you. Luke, 5, began at Camira in January 2016, and our journey up to then is quite similar to many families who have a child with autism. It took 10 months off endless appointments with specialists, speech pathologists, occupational therapists and (interestingly) music therapists before he was diagnosed at 2 ½ years old.
Where we're a little different is that I'd say our journey really started when I was 20 weeks pregnant with Luke, when the Sonographer detected that he had a mild form of Hydrocephalus (extra fluid on the brain) which would have to be continually monitored throughout his life. This news alone was devastating. So, unlike many autism parents, I knew to expect he could have delays in some areas and was even told to consider terminating the pregnancy. When Luke was born, he was perfectly healthy and alert. Milestones like walking and babbling were late, but nevertheless he was a healthy child. However as time went on, family grew more concerned, particularly when he was 1 ½ and wasn't talking. As well as being non-verbal, Luke had minimal eye contact, never-ending meltdowns in the form of high-pitched screaming, and destructive behaviour, towards toys but also at times, himself. When the word 'autism' was mentioned, it was confronting and forever life-changing, both for the good and the bad. I just didn't want the label and society in general to define my child. But, we both desperately needed help so the search for early intervention began.
I had no real knowledge of how to navigate this new world we were thrust into. At that time, ordinary daily activities like putting clothes and shoes on were monumental tasks to complete. Some of this was put down to sensory aversions but mostly frustration due to the lack of communication and lack of understanding on my part on how to break these tasks down for him. Simple gestures like pointing to an object was non-existent, and functional play and social skills were almost like torture to him. I found myself stuck in this idea of 'what's normal and why isn't this working', which is a very hard place to be in especially as a single parent to two young children.
Between receiving his diagnosis and being accepted into the program at AEIOU, we were receiving Speech and OT at the Indigenous Mums and Bubs Clinic in Logan where we were and still to this day attend for his check-up appointments. With the guidance of his GP, who also has a child with autism, we sought access to AEIOU. In the meantime, we attended the local Early Childhood Development Program (ECDP) in Logan for 2 ½ hours a week, which was highly beneficial for both of us. Around this time, he also began to attend a day care program, to assist with peer and social skills.
Then, fast-forward to November 2015 when I received that call from AEIOU, offering Luke a placement for January 2016. It was the biggest relief! Now, we had a one stop shop for speech, occupational therapy and behaviour therapy all under one roof.
Luke is a totally different boy now. For example, we had been through a a really tough period where Luke was head banging/tapping up to 70 times a day, but the staff are fully trained and equipped to keep him safe during these episodes and a Positive Behaviour Support Plan was implemented right away. I also received training and support, with strategies to use at home to minimise the extreme behaviours some of our children present with. It's not easy as a mother to see your child self-harm –it's something that is quite sensitive for me to discuss but I know we aren't alone anymore.
Additionally Luke has been working hard daily on using PECS to communicate his wants and needs. I am able to receive home visits to help transition these skills. The parenting workshops are highly informative and give parents the added support to implement the strategies used at the centre with our kids. As well as the help from the amazing staff, I've also formed close bonds with other parents, who are my go-to for emotional support and a much-needed laugh, often about things other parents may not understand. We can't do it alone and thankfully, we never have to either.
Now, Luke can now can say 'bye', and wave when I leave him in the morning. His tantrums and meltdowns have decreased dramatically in terms of the amount and length. He can take himself to the toilet independently most of the time, he can make a request for something he wants and can gain attention by tapping on a person's shoulder and he can tolerate transitions. We still have ups and downs, but we're making progress.
The most amazing thing is to see his face light up with so much expression, especially when he sees his sister or something he really loves. To see him form a close bond with other children, especially his sister, gives me the most joy. Before this, Luke always sat alone, he didn't want to go to anyone, but now he amazes me every day with his courage and his persistence.
I'm so grateful of the staff and AEIOU for accepting us… the Camira centre is like our second family. I've also just received the best possible news, which is we are the first family under the NDIS as it rolls out in Ipswich to be approved to be fully funded for the next 12 months at AEIOU. Having one more year to continue working on his goals to be fully independent, confident socially and communicating his needs and wants is the best thing that could happen to us. I am truly blessed and appreciative.
What I want all parents to know, especially those with a new diagnosis, is that you are not alone, your child is there and they see you and they hear you. Don't give up hope. We can take many lessons from this experience, including how to see things from a different angle, and to live in the moment.
Back to Stories
In Focus
From The Blog
13th Jul. 2023
In the spirit of reconciliation, we are committed to educating the children in...
From The Media Releases
12th Jul. 2023
AEIOU Foundation will expand the reach of its leading autism early intervention...