The door stays open - Karen Fleischer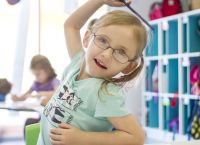 Sitting at Ruby's graduation from AEIOU Foundation was one of the happiest and proudest moments of my life. Of course, nothing was going to take away my fear of her starting school and the challenges that lie ahead, but she would be taking the mainstream path and that's something I didn't think possible at first.
Now we're almost at the end of the prep year and Ruby benefits from an inclusion support program in the classroom. It's been a long year but when I think of all the things she's accomplished and how independent and happy she is; I realise just how far she's come.
From a child who, when she started with AEIOU before her fourth birthday, was non-verbal and suffered from severe anxiety, I now look at a young girl in uniform who can stand up in front of her peers for show and tell, with the support of her proloquo2go.
Along with her class, she's recited a poem at the Gold Coast eisteddfod and has been involved in all the school activities from cross country and sports day to book week dress-up day. She's also a very keen learner.
Ruby has a class full of young friends and supportive parents and is invited to birthday parties. It's hard to reconcile that with our life prior to early intervention, where we wouldn't leave the house and felt ostracised in the community.
Even though our AEIOU days are behind us now, we have never been made to feel like the door has closed. The support we've received has had no end.
It was a very collaborative effort with AEIOU staff as we progressed through the transition process. Among other strategies, we attended workshops and had the Head of Special Education at the school come and view Ruby at AEIOU. The staff were always on hand to provide advice and we always felt supported through the process.
Ruby and I drove past the school plenty of times, read lots of topical books and spent weeks repeatedly trying on her 'big girl' uniform. When the time finally came to move on, she was very comfortable knowing she was going elsewhere.
To all the other parents preparing for school next year, I wish your family the very best of luck. My advice to you would be to take on all the advice of your therapists and teachers but also remember it doesn't stop there, because the work you do at home is also so important. You're creating a better life for your child and for your family so believe in them and don't give up. My beautiful daughter is proof of that.
By Karen Fleischer
Back to Stories
In Focus
From The Blog
13th Jul. 2023
In the spirit of reconciliation, we are committed to educating the children in...
From The Media Releases
12th Jul. 2023
AEIOU Foundation will expand the reach of its leading autism early intervention...