Get involved in events
Register for an AEIOU event
We hold exciting events in various locations throughout the year, and our supporters will often host events to raise valuable funds for us.
Getting behind these events, by participating and fundraising as much as possible, is the key to their success. You can go solo, or encourage your friends, colleagues, neighbours or sporting group to join you.
Sign up your workplace to one of our events for some team bonding and to show your corporate citizenship.
For more information on what's coming up, check out our events page, email events@aeiou.org.au or phone 07 3212 1110. 
Host an event
Do you have an upcoming event and want to make it inspiring?
Make AEIOU Foundation your event charity beneficiary and you and your event guests will make a lasting difference to the lives of children with autism.
Whether you are hosting a raffle, free dress day, movie afternoon, live gig, ladies lunch or gala dinner raising funds for AEIOU can be both simple and rewarding!
There are many ways you can support children in our early intervention program, and our team would love to discuss some inspiring ideas in how we can assist with your event.
To host an event or fundraiser for AEIOU Foundation please contact us by emailing events@aeiou.org.au or phone 07 3212 1110. 
Volunteer
Volunteering is not only fun, but it's rewarding. You will usually walk away from volunteering feeling quite tired (it can be hard work!), but extremely fulfilled, knowing you're helping to change the lives of young children with autism and their families.
Throughout the year, we have a variety of large events that offer opportunities for corporate teams and school groups to participate or volunteer. 
Learn more about volunteering with AEIOU here.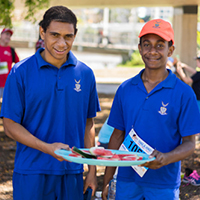 In Focus
From The Blog
20th Mar. 2020
Today, on our inaugural Behaviour Therapy Day at AEIOU, we're shining the...
From The Media Releases
26th Feb. 2020
Canberra will become home to a world-class autism hub, with $3.5 million in...