Our learning journey with two beautiful sons who have autism - The Walters Family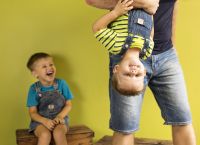 Henry was around 18 months old when the speech regression began. He loved to spin around in circles flapping his arms, laughing to himself in his own little world. He rarely answered to his name and seemed to have no fear. Life bustled on around him but he took little notice. His little interaction with the world generally came in frustrated bouts where he'd bang his head on the floor. We knew something was not quite right but we didn't expect autism and had little knowledge of what it meant.
After Henry's diagnosis we started weekly speech and occupational therapy. Our two amazing therapists referred us to AEIOU Foundation. As a stay-at-home mum, I felt reluctant to put him in a full-time program. However, when we toured the centre we were greeted by staff who were not at all phased by Henry running rampant through their classes. We were amazed when we were told the children sitting still in a semi circle all started out like Henry.
From the outside looking in, you could tell right away the staff were passionate about helping the children and were right on their level. They showed so much respect and were very tender with them. We thought to ourselves that there might be some hope here.
The beauty of the program for us was that it is a one-stop shop in so many respects. We had done our research and knew 20 hours of therapy each week was recommended, and AEIOU were the only ones in Queensland who could provide that service, supported by a transdisciplinary team.
It has also been so important to us to be involved in the learning process as parents, attending training sessions and speaking with staff each day to seek out answers. For our family, living with autism means a whole new approach to parenting, but AEIOU has equipped us with invaluable tools and the supporting education to confidently help Henry.
Seeing the progress Henry has made at AEIOU is so heartening. He is calmer, he is learning not to self-harm, has far more confidence and is starting to vocalise more words and sounds. He is able to sit for longer with activities, can dress and toilet himself and is increasingly aware of his surroundings, including people.
It has helped considerably that he can now communicate in a way we understand, which has reduced his frustration because he can now interact with the world rather than just pulling away from it. The benefits are lifelong for him.
It may only be one of our sons attending AEIOU, but the knowledge and tools we have gained overall has helped us with our eldest son as well. We are very thankful for all they have done to best prepare us for life ahead. It has been tough but so worth it in the end.
To our fellow parents, I encourage you to be open to receiving new information. Getting advice from the experts is not an attack on your parenting style, but rather presenting a more effective way to connect with your children. Be brave, be honest and be humble enough to ask questions of your therapy team. Most of, develop a thick skin; there are many people out there that just do not know any better. If you can, educate them and if you do not have time, just ignore them. Spend your energy on your child where it is going to make a real difference.
And on a more personal note, it is so important to actively seek out other families in the same boat because these relationships form such an integral part of your support network. Who better to surround yourself with than those who know exactly what you are going through. These people have your family's best interests at heart.
By Cindy Walters
Back to Stories
In Focus
From The Blog
13th Jul. 2023
In the spirit of reconciliation, we are committed to educating the children in...
From The Media Releases
12th Jul. 2023
AEIOU Foundation will expand the reach of its leading autism early intervention...