Unlocking potential and forging a future - Sarah Frahm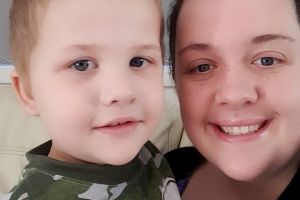 When Ollie was two years of age, he wasn't talking or even attempting to. He never answered to his name, he never made eye contact, he never wanted to play with me - he just always wanted to be by himself, he wasn't meeting his milestones and he was not like peers his age. I knew something was different about him so I started to research, while we were waiting for our paediatric assessment, and everything I read pointed in the direction of him having autism. And, it was correct.
To be honest, that diagnosis was a relief because, to me, it meant there was a valid reason as to why Ollie wasn't meeting his milestones and it was nothing I had done or not as a parent. I realise at the time, for the most part I blamed myself for Ollie's differences in development. I was also relieved because his diagnosis was a quick and easy process and it meant I could get him the help he needed as soon as I possibly could.
I first heard about AEIOU when Ollie was diagnosed. We met with a lady from Autism Queensland who was assigned to help us understand and use our HCWA (Helping Children with Autism) funding. Once she explained briefly about the AEIOU program, I instantly knew that was where he needed to be.
For Ollie, early intervention has given him independence and the confidence to complete tasks that were impossible for him to do beforehand. Overall, it has given him a better quality of life because without the persistence and guidance from AEIOU, there's no way I could have achieved any of that without them.
Early intervention has given our family strategies we can now all use everyday to help Ollie function better at home and in a community setting. It has ultimately given us our true little Ollie back who we always knew was there but we just didn't have the right keys to unlock... but AEIOU did.
They hold the keys to our success. With everything we have learnt at AEIOU, and continue to learn, we have hope for the future. We are incredibly blessed to have found AEIOU, they are our life savers!
By Sarah Frahm
Back to Stories
In Focus
From The Media Releases
12th Jul. 2023
AEIOU Foundation will expand the reach of its leading autism early intervention...
From The Blog
19th Apr. 2023
Read the Williams family story and how AEIOU helped change their lives.