The Rindfleish Family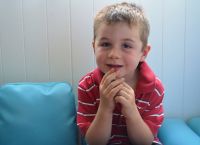 Our son Rob was given a moderate autism diagnosis at the age of three and a half. The paediatrician said early intervention was the best thing we could do for him but that wasn't an option where we lived. Soon after, we started commuting 320km each way to attend AEIOU.
Rob was our first child so we weren't overly worried when he wasn't talking when he started at a local pre-school one day a week. His teachers recommended an occupational therapist, who lead to a speech therapist and soon after, we were sitting in the paediatrician's office trying to digest his diagnosis. We were shocked.
We did all the research we could and found it overwhelming. We thought, how can he possibly learn all this?
When my husband and I came to AEIOU Toowoomba, we knew straight away this was the spot for us. We were well aware this was our window of opportunity to make a big difference in Rob's life, so we were prepared to do whatever it took.
We lived in Mungindi, which is on the Queensland / New South Wales border. Because of the distance to travel for Rob's full-time placement, I wrote a letter to all the clients at my veterinary surgery and put the business on hold.
In early 2014, I moved to Toowoomba during the week with Rob and his younger sister Chloe. The trip took nearly four hours each way by car but lucky for me, they were both excellent travellers. The car is Rob's 'chillout' zone.
We were also really supported by our local community. People who we didn't know well at the time have now become good friends. We were given a house in Toowoomba to live in, fully furnished with a yard for the kids.
Over the next year and a half, there have been a thousand little changes in Rob's life which no-one but a parent would really notice. Things are just so much better. He was essentially non-verbal when he started the program and now he's very good at making requests. It has saved so much frustration now he can tell us what he wants. He's also starting to comment on things in his daily life.
Before AEIOU he didn't even really acknowledge his own sister, but now they can laugh together, tease each other and even argue. Rob has also recently started swimming lessons and can copy what the other children in his class are doing.
We finished with AEIOU in September 2015 as his local primary school at home does a long transition. He's making friends and having a good time. He has enjoyed arts and crafts and does everything the other kids do in the classroom.
Looking back on our lives before and during AEIOU I think, how did we ever manage? At the time we just put one foot in front of the other to get through it but looking at the bigger picture, it was so very worth it. People do crazy things for their kids.
We can't thank AEIOU enough for teaching us so many lessons, including the importance of taking small steps with Rob and focusing on achieving just a few things at a time. A child can't learn to run before they can walk.
AEIOU has been there for us throughout this journey and helped us to give Rob the support he needs to shine.
By Betty Rindfleish
Back to Stories
In Focus
From The Media Releases
12th Jul. 2023
AEIOU Foundation will expand the reach of its leading autism early intervention...
From The Blog
19th Apr. 2023
Read the Williams family story and how AEIOU helped change their lives.