Opening the window to a world of possibilities - Kirsten Bowman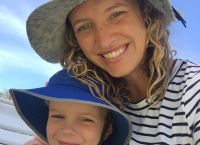 In those early years, it was as though Lachlan was sitting and looking out the window at real life, but with the support of AEIOU, that window is opening for him, helping him to reach out and engage with life. Above all, AEIOU is helping to connect Lachie with the real world and giving him the vital early intervention he needs.
In Lachlan's first year, he was progressing and developing like a typical child. It was around 18 months that things started to change, but when you are around your child all the time, those gradual changes can go unnoticed. Looking back, we were always making excuses as to why he wasn't talking yet. We saw a paediatrician after Lachlan's second birthday and received an ASD diagnosis almost straight away. We were in shock! That was the day our lives changed forever. Suddenly our goals in life were different and our priorities changed. As we often quote from a book we read, we now lived in 'Holland' while the rest of our friends and family lived in 'Italy'. It's taken us at least two years to grieve and accept our son's diagnosis and now, even though we will never get to 'Italy' (the end place where we thought we would be), we realise that 'Holland' is a beautiful place too. This diagnosis has given us so much – a love of difference and individuality, patience, determination and confidence to break the mould.
It was a long journey before we got to AEIOU. Lachlan was receiving speech therapy before his diagnosis and we also began seeing a private occupational therapist and had started at our local ECDP (Early Childhood Development Program). We also had a knowledgeable friend who was a great guide and held information nights for our family and friends about how to better interact with Lachlan.
Once we started with AEIOU Toowoomba, one of the biggest challenges we faced was helping him to accept he was going to have to go back to the same place every day. He had always been at home with me in which we did a lot in intensive learning through play. At AEIOU, things were different and he had to work for the things he wanted and that was not something he was familiar with. In addition, he was not toilet trained, was completely non-verbal and so absorbed in his own little world.
Since then, we have achieved some huge milestones. Within weeks, Lachlan was toilet trained during the day, and after working with various communication systems, from PECS to Proloquo2go to choice boards, he can now verbalise his needs in some way.
We have been so lucky to have the support of all the AEIOU staff. AEIOU has not only been a fabulous early intervention option for Lachie to progress, but it has been a huge support for our family. Previously, I felt I took on the whole load of Lachie's early intervention strategies, which was stressful. At AEIOU, I could share that load. I could talk to staff members who had extensive knowledge about ASD, ask for help and bounce ideas of them as to the best way to deal with situations. For that, I am very grateful.
At home, all this progress means Lachlan is far more independent. He gets dressed by himself and can feed and toilet himself, which makes our family life so much happier. We do not have to try to decipher what he is thinking all the time and he has developed a far more typical sibling relationship with his sister. He is also so much more aware of things, which at times also causes frustration as his language has not quite caught up, but we know things are going in the right direction.
This will be Lachlan's final year at AEIOU as we will be transitioning to prep in 2018. We are so fortunate for the opportunities AEIOU has given us during this time and we know all the progress made at the centre and at home means a different life for him.
With the benefit of hindsight, I would like to reach out and tell parents who have recently received an ASD diagnosis that you are not alone. Yes, you may now be in 'Holland' when you wanted to be in 'Italy', but there are many of us in 'Holland' too. Reach out to others and find every support you can to share the load. It is ok that your child is different - I actually think it is a blessing. Enjoy the ride as there are so many positives and things to learn along the way about life in 'Holland'.
Blijf positief (stay positive)
By Kirsten Bowman
View video (2017): Kirsten talks to Toowoomba Chronicle (at Take A Hike community fundraising event)
Back to Stories
In Focus
From The Blog
13th Jul. 2023
In the spirit of reconciliation, we are committed to educating the children in...
From The Media Releases
12th Jul. 2023
AEIOU Foundation will expand the reach of its leading autism early intervention...