Taking the next step - Amelia Cupitt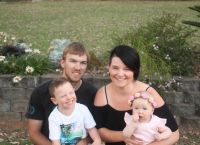 AEIOU has provided a voice for us in the community. With Tyler transitioning to school in 2017, it's so comforting to know we're not on our own. We're backed up with evidence and data and are confident in our child's capabilities and boundaries.
Before our journey with AEIOU began, Tyler's behaviours were so bad I thought no-one would ever want him at their school. He never fit the normal bill of autism but we fought for a diagnosis. While his communication was progressing, he lacked many social skills and started to become violent with us to seek our attention.
Today, he's a much happier kid who is learning to find a better way to regulate his emotions and using appropriate communication skills, thanks to the support of AEIOU's early intervention program. On a daily basis the staff continue to put in a lot of work to get him school-ready.
Tyler has come so far that he will be attending a mainstream prep next year and we can happily say he's well and truly ready to move on to a new challenge. There's already been lots of cross over between AEIOU and his new school during the transition process. We're confident they'll both continue to monitor and observe his needs and supply us with as much information as possible to allay our concerns.
Despite his impending graduation from AEIOU, we know we'll have access to them next year and they've already built us up to be as confident as possible.
At school, our motorbike-obsessed Tyler is looking forward to making friends, learning new skills and funnily enough, no more 'rest time' in his day.
We are so appreciative of the support AEIOU has given us over the past three years. It's been such a constant for us and ultimately given us our life back. For those worried about taking the plunge, it's definitely a step worth taking and I guarantee, you'll never feel alone.
By Amelia Cupitt
Back to Stories
In Focus
From The Blog
13th Jul. 2023
In the spirit of reconciliation, we are committed to educating the children in...
From The Media Releases
12th Jul. 2023
AEIOU Foundation will expand the reach of its leading autism early intervention...