"We chose the road that would give Jake the best opportunities in life." - The Kahui Family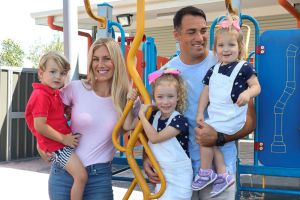 When Jake was diagnosed with autism just before Christmas last year, the last thing we imagined would be completely uprooting our lives in Japan and moving to Australia in just a handful of weeks. To complicate things even more, I had to remain based in Japan for work, meaning Amy would be spending much of her time looking after our three children, solo. All the research we did across Australia, New Zealand and Japan showed us AEIOU offered the best available program for Jake. Many would say it is among the biggest sacrifice a family could make, but for us, it was a black and white decision. We chose the road that would give Jake the best opportunities in life.
I couldn't leave because my (rugby) season hadn't finished, so while I was at work, Amy managed to find a house online and furnish it. There is no better woman in the world than my wife and she was always going to be that driving force to make sure everyone was happy and that we had everything we needed. But naturally, it was a really big time for the kids and especially for Jake.
Already I feel like we've been able to get the most out of AEIOU that we could possibly get. When Jake started, he was completely non-verbal, with full-on meltdowns and running away from us. We struggled to take him anywhere. But, the progress has been so amazing and so tangible. We see the results every day.
We have noticed really clear changes at home with his eating and the way he can now follow instructions. He has started to listen to what we are saying, which is pleasing. He can request what he wants, can do his alphabet, say the names of all his family members and sing songs.
When Amy walks into the centre each morning, she feels such love for the teachers. They will never truly know what they have done for Jake and for us as parents. We can function so much better as a family, and it has made normal day-to-day life so much easier and more enjoyable.
Recently, Amy flew to Japan on her own with the three kids. Normally Jake struggles with affection and does not cuddle much, but when I met them at the airport, I gave the kids a kiss, cuddled them all up, and walked them out together in my arms. It was a special moment.
It's a rough old journey to start, and while initially, there is utter disbelief when the diagnosis comes, with the right help and the best support, the future looks bright. You need to focus on the days when you get the little wins and really enjoy those. It is also so important to find help because this journey is not one you can do on your own. As we have found out, parents need as much support as the kids, and AEIOU have given us everything we need.
From our family to yours, thank you for supporting Jake and we would like to wish you a merry, happy and safe Christmas.
By Richard Kahui
Back to Stories
In Focus
From The Blog
13th Jul. 2023
In the spirit of reconciliation, we are committed to educating the children in...
From The Media Releases
12th Jul. 2023
AEIOU Foundation will expand the reach of its leading autism early intervention...