Strong and determined: that's Jackson - Joanne Emblem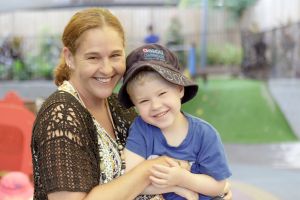 Written with Joanne Emblem
"Jackson was born in July 2015. It was just after his older brother Gasnier (Gazzy), who was three at that time, had been diagnosed with autism. It was a tough time, adjusting to life with a new baby, as well as a small child with high needs. I didn't know then that what I'd been through with Gazzy, I was about to go through again with Jackson.
He was seven months when I knew something just wasn't right.
He'd started rocking back and forth on his knees, no matter what I did I couldn't get his attention. He hated being held and was screaming in the bath, and while being dressed. He'd scream at loud noises, even at the arrival of the garbage truck.
Even though Jackson was different to Gazzy, I felt like their experiences were similar, and I was more aware of the signs of autism. So I deliberately started activities with Jackson as a baby, drawing on the skills I'd already learned with Gazzy. There was lots of floor play, talking and chatter. And I sought advice, arranged for therapy support and started to learn even more about autism by attending workshops and training seminars.
Jackson was three when he was diagnosed with autism by a paediatrician.
It wasn't something I found easy, but I felt relieved and I didn't feel crazy anymore. It meant I could get the level of help and support he needed. I knew the importance of starting early as I'd seen how Gazzy had developed after his therapy.
With Jackson, I took on a lot of advice from a whole range of specialists. There was a time where all I talked about was autism - to anyone who would listen. Finding the right care and support through disability services was tedious, and it felt like such a long process to go through. Mostly, I felt like I just wasn't being heard. I even felt my family didn't understand. But I know now that my family just wanted to help me. I was beginning to feel depressed and lacking in confidence. And I could see I was becoming a bit fixated.
Since starting at AEIOU, Jackson has come so far.
There are so many things he can do now, which he was not doing before. He can feed himself and speaks more words. He's receptive and determined. He can follow two-step instructions, sit still for five minutes and has started to help me to get him dressed. He can even sit in the bathtub without screaming now, and I can wash his face. Imagine the difference it makes in your home to have your child no longer screaming!
Seeing the difference from when Jackson started at AEIOU has been amazing. He has just had his second assessment and I'm so happy with his progress. Initially, I didn't think he was achieving as much as what I'd hoped. I was wanting too much too quick, because of what I was putting in. A little step forward for a typically developing child was a huge step for Jackson. I thought that because of what I'd been through with Gazzy, I understood what to do. But they are both different children, and I needed to remember that. And, once you start seeing some results, it's a wonderful feeling.
I still do individual therapy with Jackson, though it's the structure and routine to the AEIOU program which is similar to school that is important for his future.
The chance to play with kids his own age and learn about the social aspect of being a child makes a difference. His therapy team implements his individual program in a group classroom setting and that's helping him to achieve his goals. They get to see Jackson for who he really is, and what he's like, and not just observe him in a room with just myself and a therapist. In all of this, they see how he actually functions, and they see his potential.
I've built wonderful relationships with the staff at AEOU, and they are all brilliant. In every one there is a passion for what they do. My confidence has improved, I'm listened to, and am uninhibited when talking about Jackson's care. I'm comfortable talking with anyone in the team, whether that's in a meeting or one-to-one, and I've never felt like any question is too silly.
It's even helped me at the school that Jackson's brother Gazzy now attends.
I've formed a very natural relationship with the school's teachers, aides and everyone involved in Gazzy's learning, which is based on mutual respect. This will help me make choices for Jackson as we come to the end of this year and consider what schooling looks like for him in the future. I'm not sure what road that will take yet, and I take a day a time. I know that I'll make the right decision for Jackson, at the right time.
When I think back to early 2019, I am amazed at how far Jackson has come. I'm so thankful and happy that Jackson's been given the best possible start in his life."
Back to Stories
In Focus
From The Blog
13th Jul. 2023
In the spirit of reconciliation, we are committed to educating the children in...
From The Media Releases
12th Jul. 2023
AEIOU Foundation will expand the reach of its leading autism early intervention...