AEIOU alumnus Kobe 'debuts' as honorary Brisbane Bronco: The Blessington Family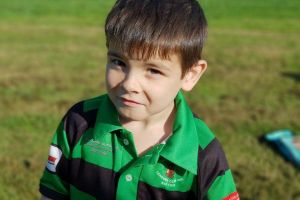 Tonight, five-year-old Kobe Blessington will don maroon and run onto the field with his beloved Brisbane Broncos, thanks to the generosity of some long-time AEIOU Foundation supporters.
He's understandably nervous about the honour, but it is matched with anticipation; proof of just how far he's come in two years.
When Kobe started at AEIOU in 2016, he was non-verbal, would hide under tables and couldn't stand loud noises. But in 12 short months, his parents Shauna and Kevin witnessed a transformation right before their eyes. They say he's now thriving in year one at school.
"When Kobe was first diagnosed with autism, I was numb for the first 24 hours, but then we hit the ground running. Kevin and I just wanted the best for our child and to give him the best opportunities," she said.
"Now he can live and just be like every other child. He fits in, enjoys the company of all the new friends around him and is just so happy. We have our ups and downs, but he's come an incredibly long way in such a short space of time.
"At school Kobe likes maths and science, but at home, it's all about turtles, ninjas and playing outside. And this year is his first season playing footy with the Pine Rivers Bears.
"He's a really good tackler, he just goes in for the tackle but he's not too fond of being tackled back. He's learning lots and is starting to understand what the different positions are, and learning personal space. He's just going so well and it's so cute to watch.
"He might just be a football player when he's older! We're just so proud of him."
The player experience package at Friday's Broncos v Roosters game was kindly donated to the family by Chain Reaction's QLD Chair Michael Byrom, who was the successful bidder on the Broncos pack at AEIOU's 2017 Gala auction. The Broncos have offered five tickets to the game, giving Mr Byrom the opportunity to meet with Kobe and his parents on the night. The young fan will also walk away with a new jersey, shorts and socks, which he will no doubt be delighted to show off to his friends next week.
It's not the first time the Blessington's have had the privilege of rubbing shoulders with the mighty Broncos, who are long-time proud sponsors of AEIOU's program. In 2016, the family received a special visit from Lachlan Maranta and Corey Oates to their home, with the interaction featured on Nine News Brisbane.
So as the saying goes, let's go Broncos!
Back to Stories
In Focus
From The Media Releases
12th Jul. 2023
AEIOU Foundation will expand the reach of its leading autism early intervention...
From The Blog
19th Apr. 2023
Read the Williams family story and how AEIOU helped change their lives.