The Bennett Family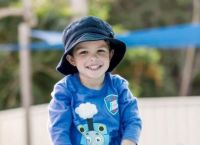 Enzo was running from the word go. In his first year, he crawled, walked and said his first words early. Like many young children, he was an unsettled sleeper and full-on during the day. We never imagined that at just 2 ½ years old, he would be diagnosed with autism.
We emigrated from South Africa when Enzo was just a baby. We had no family out here and he was our only child.
In the beginning, his development was normal, if not somewhat advanced. Then, in the months after his first birthday, we started to notice differences. There were the sleeping issues and the fact he couldn't sit still, but he also never got his hands or feet dirty, only ate certain foods, had regular meltdowns and his communication wasn't progressing.
By the time he was two, I started taking him for speech therapy. At this point, I could no longer take him out to a shopping centre and he wouldn't interact with other adults or children or even make eye contact.
We went through the process and he was diagnosed shortly before 2 ½. It was devastating not knowing how to handle this beautiful child of ours or what our next move should be.
AEIOU have been our saving grace. Enzo started at Bray Park in January 2015 with just five words and 'mum' was not one of them. He had separation anxiety and major tantrums were common when we arrived at the centre each morning. I would often drive away from him crying.
Almost one year down the track, Enzo can recite the alphabet, count to 20, knows colours, shapes and animals and actively interacts with everyone he meets. He is a completely different boy.
He was toilet trained within three weeks of arriving and took to PECS like a duck to water.
In the mornings, he now puts on his own socks and shoes and dresses himself. At the centre, he will put his lunchbox and drink bottle away and then go to play with his special friends.
Not only have I now heard the word 'mum' for the first time, he will say "bye-bye mummy, love you mummy, see you soon".
I became attached to the AEIOU staff very quickly because you can clearly see their love for the children. They have helped our family tremendously. I can't imagine where we would be without AEIOU.
As a parent, you just want your child to be accepted one day and have a normal life. It was something we couldn't imagine when we started at AEIOU, but we see that future now for Enzo.
My advice to other parents in a similar situation would be, "I can't tell you when, but I can promise you, it will get better, it will get easier and it will all be worthwhile. Just promise me you won't ever give up.
By Lizelle Bennett
Back to Stories
In Focus
From The Blog
13th Jul. 2023
In the spirit of reconciliation, we are committed to educating the children in...
From The Media Releases
12th Jul. 2023
AEIOU Foundation will expand the reach of its leading autism early intervention...