A one stop wonder: Ethan finally says "I love you"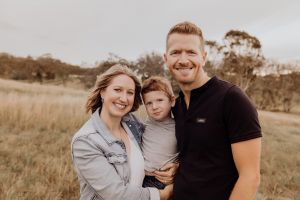 Three-year-old Ethan Haskings can finally say the words every parent wants to hear: "I love you", thanks to what his parents describe as a "one stop wonder": AEIOU.

Mum Gemma and dad Lee are extremely proud and delighted by the progress Ethan has made in speech, toileting, and behaviour since joining our service in January 2021.

"The contrast between when Ethan first started to now couldn't be any greater. Our life with Ethan was a daily challenge, he was non-verbal, having regular tantrums, and developing much more slowly compared to his peers – it was agonising to watch and especially frustrating for him," said Ms Haskings.

"Lee and I felt like the only people in the entire world who could understand Ethan. We had our own way of communicating with him, but we knew it wasn't enough. We needed help. We needed Speech Pathologists, Occupational Therapists, Behaviour Therapists and on top of that, day care!

"There was no way we could manage taking Ethan to 20 – 25 hours of therapy per week, we both work full time – but you'll do anything for your child, especially knowing how critical early intervention is, so of course we considered it. Plus, we knew from friends that most mainstream centres won't accept a child with an autism diagnosis. Then we found AEIOU – the one stop wonder.

"To have all of Ethan's therapy in one place has been a game changer. In just eight months, Ethan's communication, toileting, and behaviour skills have developed significantly. To hear those three little words: "I love you" and to watch Ethan playing and having conversations with his brother is further from where we thought we'd be. I don't feel worried about the future anymore."
Back to Stories
In Focus
From The Blog
13th Jul. 2023
In the spirit of reconciliation, we are committed to educating the children in...
From The Media Releases
12th Jul. 2023
AEIOU Foundation will expand the reach of its leading autism early intervention...