The only way is up - Natalie Cupitt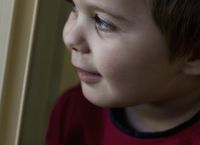 'Well, I guess the only way is up.' Through my tears, they were the first words I spoke to the doctor after we learned Finn had autism. I knew there was a limited time we had to shape his mind and I didn't want to waste a moment looking for that next step, despite the anxiety I felt for what the future held.
Through early intervention, Finn's future is constantly changing the more he learns. On the first morning we walked through the doors at AEIOU, the staff had Finn happily wearing a hat, something we always struggled with, despite our best efforts.
At this point, Finn was non-verbal, gave no eye contact and had food aversions. He was not interested in interacting with anyone, beside his immediate family, and we held great fears he would be forever like this. However, within the first days, weeks and months at AEIOU, we could see him steadily evolving. We gladly celebrated all the small achievements, because they led to much greater things.
As time passed, it wasn't just Finn improving, but it was our family unit too. For my husband and I, the parent information sessions with the therapists were the key to growth between us and our child. The skills we learned have been so advantageous.
Finn has now started talking and has learnt how to go to the toilet. He's also starting to communicate with his big brother, which brings us all so much joy. We have all come to realise he is so much more capable than we gave him credit for. We just needed to learn to be patient and give him the time to process.
We've opted for another year with AEIOU and our hope is that he may be able to attend a mainstream school in the future, however, we're happy to navigate whichever avenue is meant to be.
AEIOU has been an extended family for us and I cannot thank the staff enough for all the time and effort they have put in. They have helped shape Finn into the wonderful boy he is now.
By Natalie Cupitt
Back to Stories
In Focus
From The Blog
13th Jul. 2023
In the spirit of reconciliation, we are committed to educating the children in...
From The Media Releases
12th Jul. 2023
AEIOU Foundation will expand the reach of its leading autism early intervention...