The Swiatek Family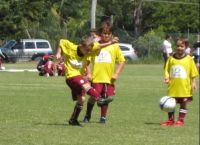 Zane's Story
It seems so long ago that my husband and I were sitting in the Developmental Paediatrician's Office being advised that Zane had autism. Although we both knew in our hearts that was going to be the diagnosis, we felt an immense sense of fear combined with the relief that comes with knowing what the issue is so that you can then focus on remediation. The entire range of emotions that you feel when you hear the confirmation of those words is difficult to describe. I remember walking out of the office and knowing that we needed to talk to an Autism Advisor who would help us initially to organise the HCWA funding and advise us of what our options were. We knew no other families that had children with autism and felt very much alone in this world of autism that we knew nothing about, except what Zane had shown us.
We attended as many courses as we could on Autism and met some lovely parents and children, who like us, were trying to grasp what this all meant. We heard about AEIOU and that a state of the art Early Intervention Centre at Nathan was going to open in the following year so we put Zane's name down on the waiting list straight away. We had our interview and were offered a placement for Zane. It was something that we could hold on to as a family, a turning point in our lives, our safety net that we were going to get some help and support. It was a week before Xmas and the best Xmas present we could have hoped for as a family. Finally we had a stepping stone to help us move forward to help Zane.
I will never forget walking into the orientation morning and seeing so many families dealing with what we were. Finally some other families that "get it". The looks on everyone's faces reiterated the sense of hope that AEIOU was bringing to all these families. A helping hand to guide you out of the cloud that had been hanging over families, with the unknown journey ahead of us all.
From day one it was different to any other learning environment that I had entered into. People that cared for Zane and wanted to support not only Zane, but our family unit as a whole. He showed improvements very quickly and loved going to AEIOU. Sean and I were taught strategies to be able to handle Zane's behaviour but most importantly they explained the reasons for his behaviour so that we could approach parenthood from a different perspective that addressed Zane's needs. They also assisted with ways to explain to our friends, well the ones that had decided to support us on our journey, how Zane's behaviour affects us and how we need to deal with it.
Sean and I both started to attend the groups that the parents had started up within AEIOU and it was refreshing to be able to "tell it as it is", and have others "get" it. We all began sharing stories, hugs, tears, and just about every other emotion you could experience. For once we were not judged, we were all travelling along the autism path, and although each family's path was different we travelled them together.
Zane loved his new environment and continued to improve over the months. The time came for him to transition to mainstream school. This was a time that I was dreading the most, yet excited about at the same time. Having Zane move out of the comfort zone of AEIOU with the teachers and friends that he was so fond of, and into an environment where he would have to make new friends and learn to trust his new teacher.
The school had been prepared to have Zane start that year in Prep, however when we were offered the place at AEIOU we advised this would not be the case. The school was very excited when I contacted them and advised that Zane would be starting to transition in term 3 of that year. We organised an interview with the Principal, Zane's new teacher and AEIOU was there to help us. They came to every meeting and helped the school and teacher with managing Zane's transition. Zane took to mainstream school like a duck to water and he fit in so quickly with his new friends. It was one of the happiest experiences of my life, to see Zane transform from a confused, scared and therefore angry child who did not want anything to do with other children to a confident young boy who loves the company of others and is very affectionate, funny and independent in undertaking so many things.
Zane is now also an active sports person who enjoys swimming lessons, soccer and karate. Zane is now in his 3rd year of playing soccer for a local team and is enjoying being in the under 7's "The Mad Cats" and having soccer practice once a week. He also recently was invited to test for his orange belt in karate and obtained his orange belt with grace and is working very hard towards achieving his yellow belt at his next grading.
Words will never be able to fully express our gratitude for what AEIOU has done for Zane and our family. We went from a state of despair to being able to do things other families take for granted, like go away on a holiday. Our dreams for Zane are looking so bright, and with each week we see more possibilities for our gorgeous boy. AEIOU has the most amazing compassion and dedication to helping our children and families, and I am so proud to be part of the AEIOU family. The bonds the parents and children have made have far extended past Zane graduating from AEIOU. We will forever support this organisation and be thankful to those that support them.
By Ellie Swiatek
Back to Stories
In Focus
From The Media Releases
12th Jul. 2023
AEIOU Foundation will expand the reach of its leading autism early intervention...
From The Blog
19th Apr. 2023
Read the Williams family story and how AEIOU helped change their lives.