"Our daughter is now encouraging others to play" - The Paine Family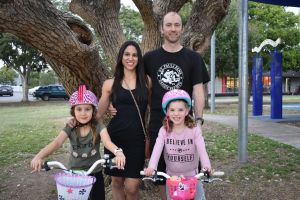 Sienna has a smile which lights up a room. Her vibrancy is contagious and the kindness she shows others is enough to make any parent proud. Looking through the camera lens at this confident (almost) five-year-old, it's hard to imagine that at the start of this year, the picture was very different. Walking into AEIOU for the first time, staff were greeted by a shy girl with golden curls who feared being separated from her parents, struggled to communicate and lacked the self-assurance to play with others. The metamorphosis dad David and mum Steph have witnessed since then is nothing short of remarkable.
"There were several signs about Sienna's behaviour that led us to suspect something was amiss. She had delayed speech and had difficulty making friends at childcare. Her diagnosis was one of those things we'll probably never forget. We obviously had the assessment done because we suspected everything wasn't ok, but it did take time to finally accept the answers we received and then learn how to live with this new normal.
We tried to help Sienna as much as we could via several different therapies. But we were so time poor with work commitments and running around everywhere for appointments that it was overwhelming. Fortunately we came across AEIOU, who we discovered offered occupational, speech and behavioural therapy under the one roof.
When we first visited the Nathan centre, it was immediately apparent that the centre was set up with the specific needs of children with autism in mind. Everything was clean, there were little distractions for the kids and the ratio of adults to children was much better than any childcare or kindergarten could provide. Sienna started at the centre in January 2018 when she was four years old.
Naturally, it was a very anxious time for Sienna being in such an unfamiliar environment, but she overcame this very quickly and even managed to engage with others for the first time. She initially found it challenging to go to the toilet because the needed to ask to get access, but she soon learned how to speak up and ask to go. She has definitely improved her sentence construction since working with the therapy team, who have been so patient with her.
Seeing Sienna confidently riding a bike without trainers for the first time (one year earlier than her older sister) made us realise that we probably underestimate how quickly children learn things and adapt. We set goals for Sienna at AEIOU, and the structure at AEIOU has brought more routine to our lives and the stresses of planning extra-curricular activities and therapies have melted away.
Sienna now has some very good friends who she constantly talks about and looks forward to meeting each day. We've also been told by the team she's taking a lead role in the playground and encouraging and guiding other children to play; something she was on the other side of only months ago. She has also become confident in larger groups and has learnt to be an active and engaged participant in the classroom environment. We love to visualise Sienna venturing off to primary school with her backpack on and having a close group of friends who she plays with.
We know many parents are probably still coming to terms with their ASD diagnosis when they are first met with the regimented nature of AEIOU. But it's important to remember that while we as parents have reservations about sending our children off to 'school' from such a young age, the kids see it very differently. For them, it's a place to go and have fun. AEIOU sets a foundation for them to develop and make friends in a safe environment without being judged. This social interaction is one of the most important skills to help them have a smooth transition into big school."
By David & Steph Paine
Back to Stories
In Focus
From The Media Releases
12th Jul. 2023
AEIOU Foundation will expand the reach of its leading autism early intervention...
From The Blog
19th Apr. 2023
Read the Williams family story and how AEIOU helped change their lives.