Your child can achieve beyond your expectations - Katy Meilak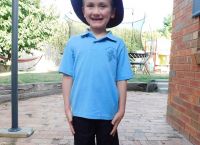 2017 is certainly a big year for the Meilak family, with son Zac starting primary school in their hometown of Canberra. It's incredible to think that for the 12 months prior, the family relocated to Brisbane to attend AEIOU's early intervention program. Zac's mum Katy shares their story and the incredible progress made.
We first started to notice differences with Zac's development when he was two years old; he still had no speech, no eye contact, and no desire to play and socialise with other children, including his sister. He had behavioural problems, involving massive meltdowns when he would bang his head out of pure frustration because he couldn't communicate and be understood.
Zac had excessive sensory flavours for soft fabrics, which he would drape himself in, and would remove his clothing to experience the softness of the fabric. We would put him to bed, and on checking shortly afterwards, find him lying on the floor because he had a preference for flannelette sheets, not cotton, and he liked the hard surface.
I remember discussing first the word 'autism' with my sister, who is a teacher, as she believed Zac had autism and needed early intervention. I had suspicions, but found it difficult to associate a medical diagnosis with our Zac, because autism was just too hard to contemplate and accept. I was overwhelmed for what this meant for him, our family and our future. I felt heartbroken for him, that he was somehow not whole, not neurotypical, and different.
In Canberra, we had access to a wonderful early intervention program run by the ACT Government. It was a very good program, which saw Zac achieving goals, but only ran for nine hours per week, which was not quite enough. Then one day, I happened to be watching the news and saw this amazing program (AEIOU) that was making real differences to the lives of children with autism. I followed it up, and the next day Zac was on the waiting list.
The biggest challenge for Zac when he commenced AEIOU in January 2016 was his non-compliance with staff. This fortunately settled within the first month and we then saw Zac soaring ahead positively, achieving more and more.
His biggest accomplishments at AEIOU are that he is now directable; can manage his feelings and therefore behaviours; has strong class attending skills, and is toilet trained!
All this means Zac is manageable at home and the community. We now function better as a family. We can go out to the shops without being concerned about meltdowns and Zac absconding. So much stress has been alleviated from our lives.
Zac will attend our local Catholic school in 2017 with his sister Lily. He has had several orientation sessions with his teacher, and one with his new classmates. This went quite smoothly, and although he missed me, he coped. AEIOU remains very supportive via email, phone and potentially Skype with his new teacher. This is providing a smooth transition to mainstream school.
Zac is really looking forward to caring for the chickens and being involved with the 'Green Gang' group. They learn about attending to the vegetable plots, compost and other environmental needs. He is also excited about making new friends and wearing his new uniform!
AEIOU has transformed Zac's life. He is now a very confident and capable boy and a keen learner. He approaches other children to play with him, with some assistance, and he has the skills to participate in our community, whereas before he really only looked from afar. Thank You AEIOU!
I would say to any future or current parent; never stop believing that your child can achieve beyond your expectations.
By Katy Meilak
Back to Stories
In Focus
From The Blog
13th Jul. 2023
In the spirit of reconciliation, we are committed to educating the children in...
From The Media Releases
12th Jul. 2023
AEIOU Foundation will expand the reach of its leading autism early intervention...