The Morris Family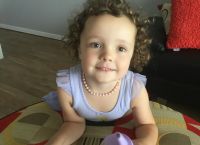 As a parent of a child with autism, you always worry if you've made the best decisions for your child at that particular time. My advice to other parents would be, always trust your own judgement and take things at your child's pace - one step at a time.
Our second child Olivia hit all her physical milestones as a baby. The first differences we started to see were around her second birthday. She never answered to her name, did not acknowledge people around her and showed no interest in other children. She wasn't talking and seemed to be in a little world of her own, albeit a happy one.
We had an inkling it was autism as her signs seemed to be consistent with all the red flags from our research. We discussed our concerns with our local doctor and over the following months, regularly worked with an occupational therapist, speech therapist and child psychologist while waiting for our paediatrician appointment. We felt a sense of relief when we received Olivia's formal diagnosis. Now we could get her the early intervention we knew was so important.
Shortly before Olivia was 3 ½ years, we were offered a position with AEIOU. Initially we were nervous as she had not spent more than a couple of hours away from us and suffered from separation anxiety. Our fears were quickly allayed as we saw first-hand how experienced the staff were and the strong bond they formed with our daughter from day one.
When Olivia started at AEIOU she hardly answered to her name, was not talking or toilet trained and delayed in her fine motor skills. Now she is talking in phrases and has stopped using her PECS book as can make requests using her words. She is toilet trained and is developing fine motor skills. She also loves to dance and is currently participating in dance classes through our AEIOU centre. I've always said she'll be on stage when she's older as she loves to perform.
The change to our family has been amazing. Olivia now wants to play with her sister and brother rather than by herself and can communicate to us her wants and needs. Outings with Olivia are a lot more enjoyable as her behaviour is now so much more manageable, thanks to strategies given by the AEIOU staff.
During centre Christmas celebrations last year, Olivia was photographed sitting on Santa's knee with a look of sheer happiness on her face. Before AEIOU, the very sight of Santa would send her screaming. It was such a special moment for us.
We are filled with hope when we think about Olivia's transition to school in the coming years. We are comforted by the fact she has been given the tools to help her form friendships and enjoy learning.
My words of hope to other families would be, 'where there's a will, there's a way'. A child who is loved, encouraged and praised will always succeed in their own way. Receiving this diagnosis is certainly not the end of the world, it's the avenue to continue your journey forward.
By Kellie Morris
Back to Stories
In Focus
From The Media Releases
12th Jul. 2023
AEIOU Foundation will expand the reach of its leading autism early intervention...
From The Blog
19th Apr. 2023
Read the Williams family story and how AEIOU helped change their lives.