"This is something that was only a dream before starting at AEIOU": Blair's big family holiday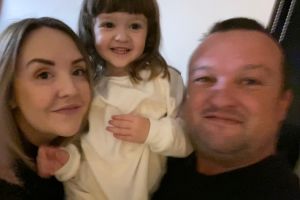 Written with Sarah and Jake Elliott, Blair's mum and dad
Blair is non-verbal and was diagnosed with Autism Spectrum Disorder (Level 3) at the start of 2020.
Back then, Blair did not play with any other children. She preferred to be alone whenever possible. She had trouble expressing her needs and wants. She was not able to follow simple verbal instructions. She did not do well in new environments.
We'd accepted that holidays were just not possible for us. Every past experience looked like meltdowns in the car en route, Blair feeling overwhelmed by new places and not wanting to see people she wasn't very familiar with... Short trips would be cut even shorter as Blair would struggle to settle overnight and we'd make the decision to head home.
The road to Blair's autism diagnosis wasn't an easy one. When Blair was diagnosed, our paediatrician told me to get out my phone and write 'AEIOU'. When I had a moment in the weeks to come, he wanted me to Google it because he believed it would be the right fit for Blair.
That night, once everyone was asleep, I began my searches. I read everything I possibly could on autism. I felt like I needed to educate myself so that I could be the best possible support for Blair. Then, I remembered the note: AEIOU. I sent them a message that night and received a call the next day.
After all the consultations, trying to understand about her challenges and endless hours exploring supports, we were finally able to enrol Blair at AEIOU. She started in August of last year, at the Bald Hills centre.
This February, our little family set off for a much-needed holiday, reuniting with family in Newcastle after a long year of lockdowns and border closures. We'd planned to go for two weeks...
As I recalled the reality of previous holiday attempts, I was overcome by my nerves. I wondered, "How would Blair go in the car for long periods of time? Would she handle visiting new people she wasn't familiar with? Would all the new sights, sounds and places overwhelm her? Would she sleep in a new place? Would we be able to relax and enjoy the holiday?"
To our amazement, Blair embraced every experience on the holiday with ease! She slept through each night in the new place, went out to dinner with our extended family, played with her cousins in the house and played with all the kids from the street in her cousin's front yard.
If you look closely in the photos, you can spy with your little eye Blair's pink blanket. It's her comfort and wherever she goes, exciting or routine, so does the blanket. You'd better believe Blair's pink blanket made this momentous trip with her!
This is something that would have only been a dream before AEIOU.
At AEIOU, Blair is learning new things daily and amazing us more than ever before. She can still get overwhelmed by new places, but she is learning to express what she wants and needs, be around others, and adjust to new routines. The paediatrician was right: AEIOU is the right fit. This is exactly where we need to be, both myself and Blair getting the support we need. We're so thankful each and every day for the wonderful team that we feel are changing our lives and making our dreams come true.
When Blair was diagnosed, it felt like the whole world stopped for us in that moment. We were just feeling lost for an entire week, but we also felt like everything was about to change. I wondered: how do I begin to parent a child with autism?
But we were already parenting a child with autism. Looking back, the diagnosis has allowed us to have such a bigger, better understanding of her little world, that we're so thankful to be a part of each and every day.
Now, we're planning to make a family holiday an annual thing and can look forward to small weekend trips too. When we plan our next holiday, I know I don't need to be nervous. Six months after starting at AEIOU, Blair is right where she needs to be.
Back to Stories
In Focus
From The Blog
13th Jul. 2023
In the spirit of reconciliation, we are committed to educating the children in...
From The Media Releases
12th Jul. 2023
AEIOU Foundation will expand the reach of its leading autism early intervention...