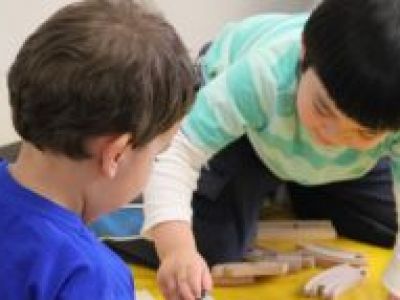 New autism centre in Adelaide to create bright futures for young children
Adelaide families will have better access to early intervention for children with autism, with AEIOU Foundation confirming its expansion, to open a new centre in Huntfield Heights by June 2014, pending NDIS service approval, and licensing approval.
The new centre will open with 10 full-time placements, and will expand to support 30 children by 2015.
Autism SA CEO Jon Martin said he welcomed AEIOU Foundation's establishment in Adelaide. "Access to quality, affordable early intervention is imperative for young children with autism. AEIOU is bringing additional support to our community and local families are certain to benefit from the service, which complements the existing programs available in Adelaide."
AEIOU Foundation CEO Alan Smith said the organisation leased an existing childcare centre. "Our long-term plans remain the same: to construct a purpose-built centre in partnership with Minda by 2017."
"This is exciting for local families, and also for AEIOU Foundation. We estimate around 1,185 children are diagnosed with autism in Australia each year, but only 10% of those children have access to best-practice early intervention services, and we're committed to turning that around."
Mr Smith said while AEIOU is new to Adelaide, the program has been operating since 2005 in Queensland, delivering an evidence-based curriculum that meets the 2012 Australian Good Practice Guidelines.
"Children with autism who receive the recommended early intervention have a much greater chance, later in life, of living independently, securing employment and developing meaningful and lasting relationships."
The new service will be operational while AEIOU constructs a purpose-built centre at a pre-approved site at Minda, which pledged its support by donating 2,000 square metres of land on its grounds in Brighton via a long-term lease.
"AEIOU is delighted to partner with Minda, one of Australia's largest and most respected providers of care for people with an intellectual disability and their families. The two organisations share similar values, and there will be opportunities for collaboration in areas such as research, training and development," Mr Smith said.
Minda CEO Cathy Miller said Minda is proud to support AEIOU Foundation and host the site of the future purpose-built centre. "There is nothing like this type of support offered anywhere in the State, and I expect the interim service will be welcome news to the many local families who care for a young person with autism," Ms Miller said.
The AEIOU Adelaide Centre will open at 19 Lindisfarne Road, Huntfield Heights. AEIOU will enrol 10 children when the centre opens, but will expand to support 20 children by the end of 2014, and 30 children by 2015.
In addition to its Adelaide centre, AEIOU Foundation supports more than 200 children across Queensland. Children who complete AEIOU's program show significant gains in their communication, as well as reductions in autism symptoms. Around 70 per cent of children who complete the program successfully transition to mainstream school. For information about AEIOU Foundation visit http://aeiou.orgu.au.
- ENDS
Media enquiries: Deborah Whiteoak, Corporate Affairs Manager, 0400 552 139, deborah.whiteoak@aeiou.org.au
Tags: Autism, ASD, Children With Autism, Early Intervention, 2012 Australian Good Practice Guidelines, Adelaide Autism Therapy,
Related Articles