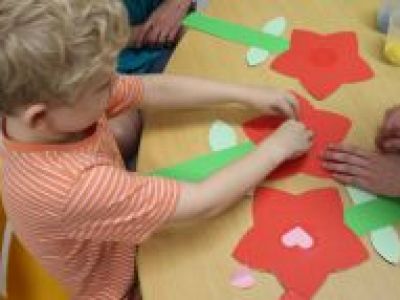 Valentine's Day at AEIOU - there are many ways to show you care
Commercial holidays, such as Valentine's Day are increasingly popular in Australian society. For many, the celebration provides a tangible way to demonstrate love and friendship, but this year AEIOU Foundation is using the ritual as an opportunity to help children with autism practice the communication and social skills that many of us take for granted.
At AEIOU Foundation, children with autism are supported to develop important life skills, with a key focus on learning to interact with their families and peers, and developing the ability to communicate, understand social expectations, and more.
Children with autism can experience challenges with social and emotional reciprocity and may give and receive affection in unique ways; for example, while one child may feel comfortable with hugs, another may prefer a 'high five'.
So, to coincide with Valentine's Day, a class of children at AEIOU Foundation's Nathan centre will create Valentine's Day inspired artworks for their families.
Their teacher Ashlea McClaer says that while the activity is designed to be fun, it supports key elements of the AEIOU curriculum.
"This activity provides an opportunity to generalise the skills that the children learn with us every day. For example, it supports skills in social interaction as they'll be encouraged to deliver a message and give a gift to their parents, upon which time they can practice emotional reciprocation. The activity itself also provides an opportunity to practice fine and gross motor skills."
AEIOU Director of Education Diane Heaney explains that everything AEIOU Foundation does within its classrooms is evidence-based, and the curriculum has been designed to support the specific needs and strengths of children with autism.
"Developing skills to establish positive relationships is important for a child's development. We have an energetic team, and while the children work hard to learn the skills they need communicate, attend to tasks, interact socially, and learn academically, we make sure the environment suits the individual needs of every child, and that it remains play-based, and rewarding," Mrs Heaney said.
"Many of our centres choose holidays and community experiences to engage in throughout the year, to help children put their skills to practice while having fun and engaging with their peers and families."
This Valentine's Day at AEIOU we want to know how your child shows their love and affection. Has there been a special moment that you would like to share? Visit us on Facebook page or email your story or a photo to communications@aeiou.org.au.
Tags: Autism, Early Intervention, AEIOU Foundation
Related Articles