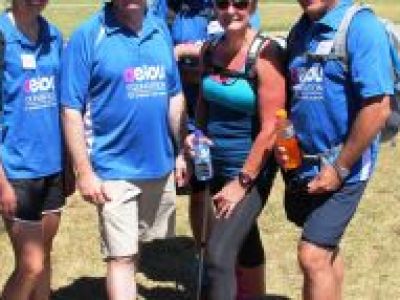 Toowoomba locals hike with their hearts for children with autism
AEIOU Foundation has inspired a group of 100 local business and community leaders to hike 40 kilometres to raise funds and awareness for children with autism in the 4th annual Take a Hike Toowoomba challenge on Sunday, March 16 2014.
But first, key Take a Hike participants will join local children and their families benefiting from AEIOU's early intervention program for an inspiring morning mat time lesson on Tuesday, March 11 from 9am at AEIOU's Toowoomba Centre.
Hikers are committing their time to make a difference for local children who have autism, with previous hikes proving enormously successful, raising over $150,000 for the local AEIOU centre, closing the $10,000 funding gap AEIOU experiences for each child in the program in Toowoomba every year, many times over.
AEIOU Foundation CEO Alan Smith said he will join participants in the Hike, where they will set off on the nine-hour trek with a goal of raising a total of $75,000 to support AEIOU Foundation's program. "Take a Hike is a challenge I've been part of since its launch in 2010, and I'm proud to have walked beside some of Toowoomba's most inspiring people who support our cause," Mr Smith said.
"I am constantly reminded that the young children at AEIOU work so hard to learn the vital life skills many of us take for granted. The hike is a physical test, but it's nothing compared to the challenges they overcome each day."
Autism isn't rare, and there's no cure, although early intervention can make a big difference to a child's development. Mr Smith said along with the challenges children with autism face, their condition can also affect the family unit, with studies showing families can experience social, financial and vocational disadvantages.
"It's heart-warming to see a child learn to communicate and connect with their families. AEIOU's program can change the lives of young children with autism, and by supporting us through Take a Hike, you can too."
Proudly sponsored by Synergy Accountants AEIOU's signature event has become one of the largest and most inspiring organised autism walks in Queensland.
AEIOU Foundation is a not-for-profit organisation and a leading provider of high quality early intervention for children diagnosed with autism aged two and a half to six years. More than 70% of children who complete our program transition to mainstream school every year.
- ENDS -
Media enquiries:
Laura Daley, Fundraising Marketing Manager, p:3212 1112 m: 0417 284 058, e: laura.daley@aeiou.org.au
Tags: Autism, Aeiou Toowoomba, AEIOU Foundation, Early Intervention
Related Articles