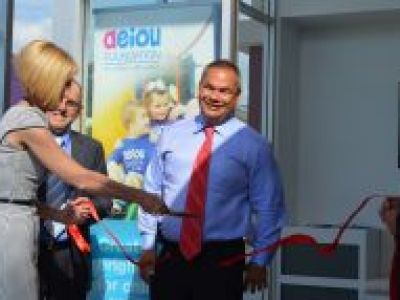 Mayor Tom Tate and The Hon. Tracy Davis MP to open Gold Coast Autism Intervention Centre
The Hon. Tracy Davis MP and Gold Coast Mayor Tom Tate will officially open a new autism-specific early intervention centre on the Gold Coast on Thursday 29 May at 12:30pm, at 11 Byth Street Arundel.
The building is owned and operated by AEIOU Foundation for Children with Autism, one of Australia's largest providers of full-time early intervention for children with autism.
AEIOU Foundation CEO Alan Smith said with construction on the building is complete, and 20 children and their families are benefiting from the facility. "The Gold Coast is an area that needs more autism-specific support and we're looking forward to the opportunity to thank the community and corporate partners who made the building possible."
Mr Smith said the Gold Coast City Council charitably established affordable lease guidelines for the land where the centre is located, and the construction of the centre was made possible due to philanthropy. "AEIOU was named a major beneficiary of the corporate cycling initiative Chain Reaction Queensland. This has so far provided us with around 35% of the capital for construction, with hopes for an ongoing partnership in 2015."
"In addition, the Queensland Government remains the most proactive State Government in Australia in their commitment to early intervention," Mr Smith said.
Autism affects thousands of Australian children. "Families on the Gold Coast are crying out for more support. This centre offers a location for training and workshops as well as early intervention, and with additional classrooms, we hope that with this centre we can increase our service capacity."
Mr Smith said Goodstart Childcare is a partner of AEIOU Foundation, with several services made possible with the opportunity to lease classrooms from Goodstart centres. "Until now, AEIOU's Gold Coast service operated from two classrooms leased from a local Goodstart Childcare centre in Ashmore. This was a tremendous partnership and beneficial for local families. However, children with autism require specific support and now we are able to give that to more families, in a centre tailored to meet their needs.
The new centre features facilities including a motor skills room, a parent training room, a staff lunch room, individual therapy rooms, four education rooms and a custom-designed outdoor play area.
The centre supports 20 children and their families, with plans to increase capacity to 40 enrolments. The official ceremony will take place at the centre from 12:30pm – 1:30pm and will include centre tours for guests, including Minister Tracy Davis and Mayor Tom Tate.
AEIOU Foundation operates nine centres, and supports more than 200 children across Queensland. Children who complete AEIOU's program show significant gains in their communication, as well as reductions in autism symptoms. Around 70 per cent of children who complete the program successfully transition to mainstream school.
- ENDS -
Media enquiries:
Deborah Whiteoak // Corporate Affairs Manager // 0400 552 139 // Deborah.whiteoak@aeiou.org.au
Tags: Autism, AEIOU Foundation, Early Intervention, Events, Centre Opening, Gold Coast
Related Articles