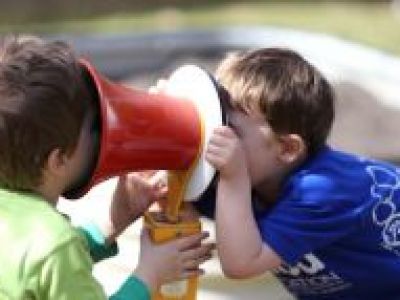 AEIOU Foundation for children with autism has received service approval under the NDIS and will open its new autism-specific early intervention centre in Adelaide on Monday 7 October 2014, providing support, education and therapy for pre-school aged children with an autism diagnosis.
Located in Huntfield Heights, the centre will open with up to 20 placements available, depending on whether parents choose to enroll their child on a part-time or full-time basis.
Senator Nick Xenophon has visited AEIOU Foundation in Brisbane and welcomes the opening of the new centre in Adelaide: "This is great news for local families. Programs like the one delivered by AEIOU support the child as well as the family unit, and we urgently need better access to quality and affordable early intervention programs for young children with autism."
AEIOU Foundation CEO Alan Smith said the centre at Huntfield Heights would open in time for Term Four of 2014: "AEIOU is one of Australia's largest providers of early intervention for children with autism, and establishing a centre in Adelaide is very significant for the organisation."
"Families have sought support from our service for several years, and there's an urgent need for quality education and therapy support across the country, in both metropolitan and regional areas," Mr Smith said.
"The centre in Huntfield Heights has given us an opportunity to establish our program during the NDIS trial period, and our long-term plans remain the same: to construct a purpose-built centre in partnership with Minda by 2017."
It's estimated around 1,185 children are diagnosed with autism in Australia each year, but only 10% of those children have access to best-practice early intervention services. Mr Smith said AEIOU Foundation is "committed to turning that around."
"There are some challenges. Several families on our waiting list won't be able to commence in the program until they've been seen by an NDIS planner, to receive their funding, however we're confident this will take place by October. We're also conscious that the funding under the NDIS is different to what is currently available to families in Queensland, so local families will experience higher out of pocket expenses for the service," Mr Smith said.
"Ideally, all children would enroll under a full-time placement, because we know the recommended 20 hours of intensive intervention gives children the best chance of living independently, securing employment and developing meaningful and lasting relationships later in life."
The new service will be operational while AEIOU constructs a purpose-built centre at a pre-approved site at Minda, which pledged its support by donating 2,000 square metres of land on its grounds in Brighton via a long-term lease.
The AEIOU Adelaide Centre will open at 19 Lindisfarne Road, Huntfield Heights. In addition to its Adelaide centre, AEIOU Foundation supports more than 200 children across Queensland. Children who complete AEIOU's program show significant gains in their communication, as well as reductions in autism symptoms. Around 70 per cent of children who complete the program successfully transition to mainstream school.
Tags: Autism, Autism Early Intervention Adelaide, Autism Therapy Adelaide, Ndis And Autism, Autism Diagnosis
Related Articles