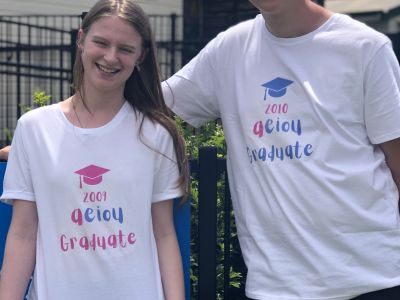 In a heartwarming full-circle moment, AEIOU Foundation graduates Ben Iliffe and Lillian Vaughan will 'Take A Hike' this Sunday (20 March) to help raise funds for children with autism, 10 years on from their own time at our Toowoomba centre.
Now aged 16 and 18, Ben and Lillian are testament to the success of our life-changing autism-specific program, which has provided support to hundreds of graduates across the Darling Downs since 2007.
"Before AEIOU I wanted to dig a hole and stay in it. I was the kid who sat in the corner unable to interact with anyone. Now I'm in Year 12 and have plans to study psychology. Without AEIOU, learning foundational skills would be more challenging. They helped me start to learn," said Ben.
Like her fellow inaugural graduate, Lillian has gone on to achieve what doctors once considered impossible: "I'm a first year Visual Art student at USQ. It's because of AEIOU that I've had a mainstream education and all that comes with it – friends, connections, university."
Through their generous fundraising efforts, and because of their experience, the two buddies are dedicated to ensuring learning and play resources are plentiful for future children at AEIOU, knowing full well the lasting impact early intervention therapy has.
"Our stories are examples of how AEIOU can help. We are a success story in a sense," adds Ben. "Autism isn't a weakness, it's a strength. It can be challenging at first but as long as you have the facilities to deal with it, it gives you a new way of looking at life; a different point of view that most people might not necessarily have."
Our Toowoomba Centre Manager, Sandy said seeing graduates come back to raise funds was a true full-circle moment. "It's a wonderful feeling to see Ben and Lillian return as mature young adults, eager to ensure children continue to have access to the same opportunities as they did."
"Every cent they've raised for 'Take A Hike Toowoomba', and the over two hundred other participants, will help purchase resources like play and learning equipment - so we can continue to help children in their early developmental stage," said Mrs Peachey.
Registrations for Take A Hike, which is held at Toowoomba Grammar School, are open online until 9:00am Friday (18 March). Everyone is welcome to turn up on the day in pink or blue to participate in a family fun community event. Register here.
Tags: Autism, Autism Awareness, Graduates, Early Intervention
Related Articles