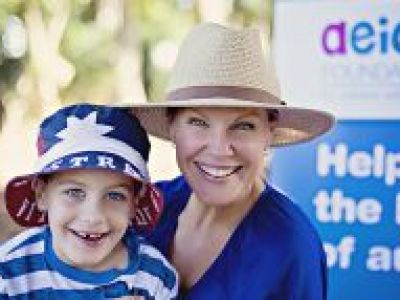 Leanne Gillman manages AEIOU Foundation's Townsville centre. She has been part of the AEIOU 'family' since 2010, as a parent accessing the program, a volunteer, teacher and now a manager. Here, she tells us about her experience and how it helps her support families at AEIOU today.
"My son was diagnosed with autism spectrum disorder (ASD) in September 2010. At the time, I was completing the final year of an education degree, majoring in early childhood. In light of my personal experience I chose to base my major research project on autism and the successful inclusion of children with ASD in mainstream settings. In doing so, I found myself in a unique position where I was able to view autism through two lenses; as a parent and as a teacher.
My experience with the AEIOU team was positive from the outset. I had searched for months for the right early intervention program for my son and when I first visited the Townsville Centre, I knew I'd found it. I was particularly impressed to find that individual strategies and goals set by the therapists were woven into the curriculum and that the program was designed to offer positive behavioural support. The multi-disciplinary approach seemed like a model that would work for my son and, as the Centre Manager at the time explained, the strategies could be practiced and reinforced in the home setting.
Throughout our time at AEIOU, the team kept me informed at all times about the strategies and practices they were implementing for my son so that I could follow them up at home, which for us, was key to my son's progress and development. I began to volunteer at the centre in 2010, and in 2012, my son very successfully transitioned to a Prep classroom in a mainstream school and I enjoyed the privilege of working as the early childhood teacher at the AEIOU Centre here in Townsville.
It was in 2013 that I took over the Centre Manager position, which has been a tremendous experience for me. I'm inspired every day by what I see in these beautiful children. What they are capable of never ceases to amaze me and warm my heart. My work fulfills me in more ways than I could have imagined and the bonus is that I am able to do what I do with the support of a professional, devoted team. It truly is a gift to be working with people who care deeply about 'our' children, and to have a lasting impact on the lives of young children and their families.
In my role, I have the opportunity to both lead our team and manage the administration of the centre, but I also enjoy opportunities to work with the children in the classroom. Nothing beats that moment when a child achieves a new milestone… across the organisation we fondly refer to the subsequent celebration as a 'festival of praise' and we all share the moment as a team, and with the child's family.
Our centre is one of nine AEIOU centres across Queensland and in the three years that I've been part of the program, I think it's my experience as a parent of a child with ASD, my passion for education and my appreciation of the difference this service can make to a young child that has defined my time here.
I know it's a minefield when you first receive an autism diagnosis and I would encourage any parent in those early stages to reach out – you are not alone, and there are wonderful people there to help you throughout the early years. That includes our team, and also the other parents and carers in our centres. It's a real community and makes such a difference to have a support network."
If your child or a child in your care has a new or suspected autism diagnosis, please feel welcome to come along to the AEIOU Foundation Open Day on 28 August at the centre closest to you.
This is a great opportunity to observe how the AEIOU early intervention program works for young children with autism, meet the team, and ask questions. The Open Day would also be beneficial if you are an early childhood educator, GP or allied health professional, please join the team at your local centre. Click here for further information and registration information.
Tags: Autism, Early Intervention, Aeiou Foundation, Aeiou Stories, Aeiou Blog, Aeiou Open Day, New Autism Diagnosis, Autism Help Queensland, Autism Therapy
Related Articles