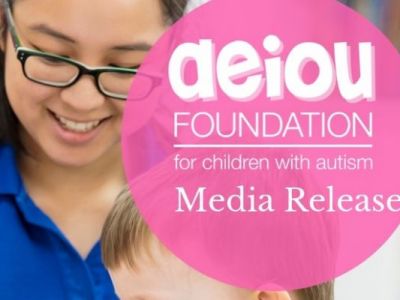 For the first time, Logan children with autism have access to local, full-time early intervention delivering life-changing therapy and care, with the centre's official opening taking place on Friday 7 September at 10am.
The new centre, operated by AEIOU Foundation for Children with Autism, is made possible with Federal and State Government Funding, including a $1 million National Stronger Regions Fund grant, and a $1 million grant from Queensland Health. Griffith University donated the land via a long-term lease.
Member for Forde, Mr Bert Van Manen MP and Minister for Employment and Small Business, Minister for Training and Skills Development and Member for Waterford Shannon Fentiman will officiate the ceremony, along with AEIOU Foundation Chair Susan Rix AM.
As part of the innovative Meadowbrook Health and Knowledge Precinct and located at Griffith University's Logan Campus, the centre opens with 25 full-time enrolments. AEIOU Foundation CEO Alan Smith anticipates the centre will support up to 50 children within its first year of operation.
"AEIOU Foundation experiences extensive waitlists. Until now, Logan families have either been unable to access this individual therapy program, or were forced to commute to AEIOU centres on the Gold Coast, or in Brisbane," Mr Smith said.
"AEIOU commends the National Stronger Region's Fund, and Queensland Health. This project would not have been possible without the support from our partners and the vision of both the State and Federal Government.
The centre not only provides better support for Logan families; through our partnership with Griffith University, it will foster significant research pathways and community partnerships, laying the foundation for long-term investment in the community and lives of these young children."
Minister Fentiman said the Palaszczuk Government had invested $1 million in the new centre as part of the government's commitment to providing world-class healthcare across Queensland.
"This is a space where local kids with autism and their families can come that is close to home and will offer leading early intervention care," Ms Fentiman said.
"I'm very pleased to welcome the AEIOU Foundation for Children with Autism to our community and look forward to seeing the great work they do."
The AEIOU Logan Centre for Autism will feature four purpose-designed classrooms, a motor-skill therapy room, playground and modern staff, research and parent facilities.
It is the 10th centre AEIOU Foundation has established, enabling the Foundation to support more than 270 children each year in Australia, one of the largest cohorts of children with autism aged 2-6 in the country.
Related Articles