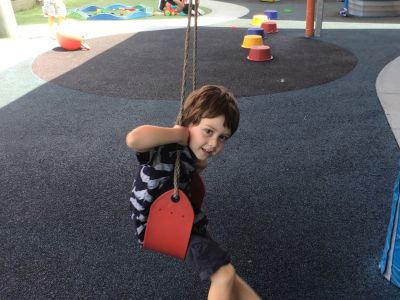 Written with Elizabeth Webber
Ethan is five and will be going to Big School next year. Elizabeth, Ethan's Mum, says "don't give up".
"Ethan's doing really well and we're so impressed with where he's at. He started at AEIOU in April 2018. Before that, he was attending a mainstream childcare centre where he wasn't getting the support the needed. It was one of the childcare centre staff who suggested AEIOU for Ethan, and they spoke highly of the program.
It was quite a journey to get to where we are now.
When Ethan was about 9 months our family day care provider at the time mentioned small things that Ethan wasn't doing, and that he should have been. He wouldn't stop looking out the window and it was a struggle for her to get his attention. She brought it up with me a few times, but I was in denial. She told us that the sooner we get some help the better because he could get the support he needed if we started early.
Deep down, I knew too that something wasn't quite right. Ethan would cry uncontrollably for no reason. I'd think he was hungry, had a wet nappy or was tired. I even thought: perhaps he's got colic. We kept taking him to see the doctor, and while he was meeting his physical developmental milestones, he still wasn't talking, and he was walking on his tippy toes. He was getting cars and other toys and lining them up rigidly. It wasn't normal behaviour.
Taking Ethan though the process of obtaining a diagnosis was hard.
He had a meltdown at the paediatrician's office so an occupational therapist had to visit him at the childcare centre. Ethan was about 18 months when he was diagnosed.
I thought it would be great to finally find out the cause of his behaviour and to get Ethan the help he needed. I was of the opinion that Ethan had autism because of the advice we'd received so far and the signs that were there. But when we were told he had autism, I just could not stop crying; and I cried and cried. After these initial feelings, we tried to learn more about autism and how to support Ethan. We had appointments with behaviour therapists and speech therapists and applied for funding to help with the costs this involved.
When we decided it was time to move Ethan away from his mainstream childcare centre, we visited AEIOU to see if it was the right place for us. Right from the start Ethan found something he loved. He has always loved anything to do with the sea - such as whales, dolphins, turtles - so when he spotted a grey whale toy, he loved it. The centre has a Turtle Room, Dolphin Room and Nemo Room. It's almost like it was arranged just for us. In the beginning physically getting Ethan to go to AEIOU was a struggle because he doesn't respond well to anything out of his routine, but his love for the grey whale was a drawcard. He knew he'd get to see it at AEIOU.
Right away the staff began to work on his speech, toilet training and set about establishing a routine. Everyday Ethan's speech was getting better and his communication has improved. When he started at AEIOU he was not talking at all. He couldn't even say yes or no. Now, he's saying things like 'more water please Mummy'.
Initially I was a little concerned about a group therapy program.
Ethan mimics and imitates a lot so I thought it may not be good for him to follow what the other children do. But because there were a lot of kids who were more advanced than him, it has helped him. He talks about the children in his class, he knows all the teacher's names and he points them out in photos.
The real eye opener for me about how well Ethan was doing at AEIOU came when I was playing with a Rubik's cube at home.
Ethan came and sat next to me. He pointed to one of the colours and said "red". I though it was a guess, so I turned the tiles around to another colour and he said "white". I kept doing that, and he got the colours right every time. I was so excited: he knows colours! That was the moment when I realised the amazing work that AEIOU were doing with Ethan, and I really had no idea.
As a parent with a child with autism, I understand how it feels.
We kept looking for help and AEIOU has turned out to be the best thing for Ethan. We learned from our mistakes too. So many times, we've tried things that haven't worked out. We just keep trying different things.
Persevere and keep looking for help. Don't give up, it's worth it.
Tags: Autism Awareness, Early Intervention, Family Story
Related Articles