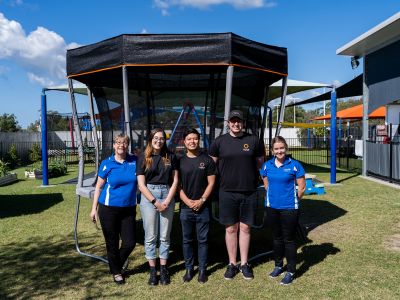 The children at AEIOU Sippy Downs were ECSTATIC when the team from Vuly delivered a donation to the centre recently: a very special Vuly trampoline!
The Vuly team came to the centre to deliver the trampoline earlier this week. The children could barely hold themselves back from giving their new toy a good test-bounce, but they waited patiently as the trampoline was set-up and secured.
Trampolining is a favourite activity of many children at our centres. So, why do they love it so much? Our therapists and carers have some ideas:
A fun outdoor play environment
Helps develop gross motor skills
A safe way to de-stress from overwhelming stimuli and experience self-stimulatory movement
Improves sensory input
This isn't the first time Vuly has had us jumping for joy. We've welcomed Vuly into the outdoor play areas of a number of our centres. Grant funding catered for a trampoline at AEIOU Camira in Ipswich, and Vuly has donated trampolines to the children at our Bundaberg and Nathan (Brisbane) centres.
A big thank you to Vuly for their generous donation and support; we love being a part of such a giving community. We're looking forward to all the trampoline play to come!
You can read more about the benefits of bouncing on a trampoline for children with autism by clicking here. You can read more about Vuly by clicking here.
Tags: Sippy Downs, Sunshine Coast, Autism Awareness, Early Intervention, Therapy
Related Articles