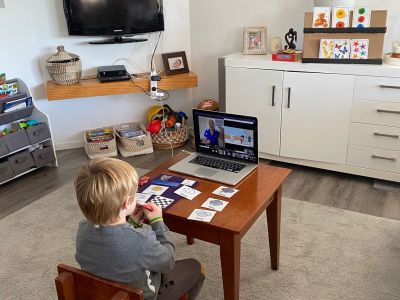 AEIOU@Home consists of one-to-one consultations and virtual classroom sessions with children, and their parents. It was developed and implemented by our senior team of specialists and educators.
The concept for the program was developed in March, when families began to self-isolate. By April, it was online and ready to support up to 40 families. AEIOU@Home doesn't intend to replicate a centre environment; it focuses on maintaining connections and helping ensure children maintain the skills they have already developed.
Senior Occupational Therapist Meg Russell and Senior Teacher Schahana (Sharni) Clark were part of the team that developed and delivered the program.
Meg explained the key to the program's success would be to understand each child, their background, history and skillset. "So, we did our research and carefully reviewed each child's skills, their abilities and the challenges they faced, before we met them in the virtual classroom," Meg said.
"We've been really pleased with the achievements the children are making. If the child's goal was to sit for five minutes, then we didn't expect them to go beyond that. If they sat for 20 minutes, then that was great and actually exceeding our expectations."
Sharni agrees. "We acknowledged also, that children may like to build up activity over time, or that certain activities just might not be interesting to them. We reassured parents that it was okay if their child only participated in one activity. Maybe next time they'd be able to do two."
While parents have been at home, the team have held online consultations with them providing support, advice and guidance.
"During these consultations we talked about activities that would help them to maintain their child's skills and support them at home. We held sessions with parents to teach them strategies about vital skill development, such as sitting, waiting for a turn, and motivational and reinforcement techniques that were suitable for them, and their child. Families found our advice and feedback valuable, and useful throughout their day at home as well," Sharni said.
Head of Clinical Delivery, Claire McIvor, commended the team for the development of AEIOU@Home.
"Our team is very passionate about supporting the children in our care, and also their families. As the COVID-19 pandemic unfolded, we were determined to ensure that no child would be disadvantaged," Claire said.
"The AEIOU@Home project demonstrates the calibre of our team as they adapted and responded to an intense and evolving situation. They're an example of what a great team can do.
"While the program cannot replace the benefits of a centre-based service where a child is part of a group therapy program, it is fantastic to be able to offer a remote support alternative to families if they need it."
Claire also explains parental feedback has been positive, with many parents feeling more connected to their child's learning experience and gaining new insights into the level of supports available to their family. "We'll invite all parents to complete a survey upon the completion of the first phase of this service, but the early indicators are exciting – this remote service may prove to be a quality source of support for families in various circumstances in the future."
Tags: Early Intervention, Autism, Therapy
Related Articles