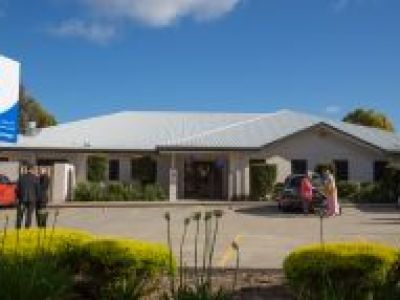 Adelaide families have welcomed the opening of AEIOU Foundation's Huntfield Heights centre and the opportunity for their pre-school children to receive support, education and therapy as part of its highly-successful autism-specific early intervention program.
Mother of two, Laura Roadknight, said she had secured a place for her 3-year old son Jedd in one of the initial 20 placements at the Lindisfarne Road centre and was excited about his future growth and development.
"Just like most other parents, we want to give our son the best start to life as possible and after doing plenty of research, we feel that the AEIOU program will certainly provide him with that opportunity because there is nothing else like this in Adelaide," Ms Roadknight said.
"We know another family that has had a child go through the program in Queensland with amazing results, and we look forward to Jedd learning a range of new skills and growing his confidence at the centre, and the opportunity for us to play an active role in supporting and building on those achievements when he is at home," she said.
"Rather than having to go to a 'special needs school' we want Jedd to be sufficiently advanced to be able to enjoy the experience at a mainstream school, and as a teacher at a mainstream high school that would be a dream come true for me."
AEIOU Foundation CEO, Mr Alan Smith, said the Centre's opening was great news for Adelaide families, who have been lobbying for exactly this type of facility in South Australia.
"Raising a child can be difficult at the best of times, but when that child has autism it brings with it significantly more challenges and pressures for parents wanting to do all they can to prepare their youngster for schooling and give them the best possible opportunities to grow," Mr Smith said.
"Our curriculum is underpinned by evidence-based practices that have been designed to support the family unit as well as the child, and around 70 per cent of the children who complete the full-time program successfully transition to mainstream school," he said.
Mr Smith described the South Australian centre as a significant expansion milestone, and influenced by SA's trial site status as part of the National Disability Insurance Scheme (NDIS).
"AEIOU is one of Australia's largest providers of early intervention for children with autism, and there is an urgent and pressing need for quality education and therapy support across the Nation, and we hope that showcasing our program and achievements during the NDIS trial period helps to fast-track our expansion efforts to other parts of the country," Mr Smith said.
"Around 1,185 children are estimated to be diagnosed with autism in Australia each year, but sadly only 10% of them will have access to best-practice early intervention services such as those offered by AEIOU - and we need to have experts working in partnership with families and governments to turn that around as a matter of priority," he said.
"Ideally, we would like to see all children enroll under a full-time placement, because we know the recommended 20 hours of intensive intervention gives children the best chance of living independently, securing employment and developing meaningful and lasting relationships later in life."
The Huntfield Heights centre will remain operational until AEIOU Foundation constructs a purpose-built centre by 2017 at a pre-approved site at Minda, which has pledged its support by donating 2,000 square metres of land on its grounds in Brighton via a long-term lease.
About the AEIOU Foundation
In addition to its Adelaide centre, AEIOU Foundation supports more than 200 children across Queensland. Children who complete AEIOU's program show significant gains in their communication, as well as reductions in autism symptoms. Around 70 per cent of children who complete the program successfully transition to mainstream school. For information about AEIOU Foundation visit http://aeiou.org.au.
- ENDS -
Media enquiries:
Faye Lawrence // Corporate Affairs Manager // 0400 552 139 // faye.lawrence@aeiou.org.au
Tags: Autism, Autism Early Intervention Adelaide, Autism Therapy Adelaide, Ndis And Autism, Autism Diagnosis
Related Articles