AEIOU Logan
AEIOU Foundation is excited to be opening in Logan in 2018, providing effective early intervention for children with autism aged two to six years. 
This new purpose-built centre will provide high quality intensive early intervention to more than 40 children each year, and will support families with workshops and tools to achieve shared goals and help access the community.
AEIOU Logan will feature: 
AEIOU's effective intensive early learning program
Long-day care opening hours
Purpose designed classrooms
Parents' retreat and training facilities
Large covered outdoor play facilities
Research facilities
The program will be delivered by:
Behaviour Therapists
Occupational Therapists
Speech and Language Pathologists
Educators, and
Skilled learning facilitator
To view the Logan centre flyer, click here.
Interest in enrolment is now open. Download an INTEREST IN ENROLMENT FORM, or CLICK HERE for more information on accessing our program.
To find out more, call 1300 273 435.
The NDIS and AEIOU
As an NDIS provider, eligible families will be able to secure reasonable and necessary support to access our program. To find our more, contact our NDIS Support Coordinator on 3320 7570, or email Katrina.ives@aeiou.org.au
Additional information on NDIS can be found here.
Location and the Logan Community
Located on Griffith University (Logan Campus) land within Logan City Council's Meadowbrook Master Plan, AEIOU Logan will service an unmet and vital need for early intervention in Logan City.
AEIOU Foundation is proud to be working with the Logan Together initiative to help children in Logan reach their potential.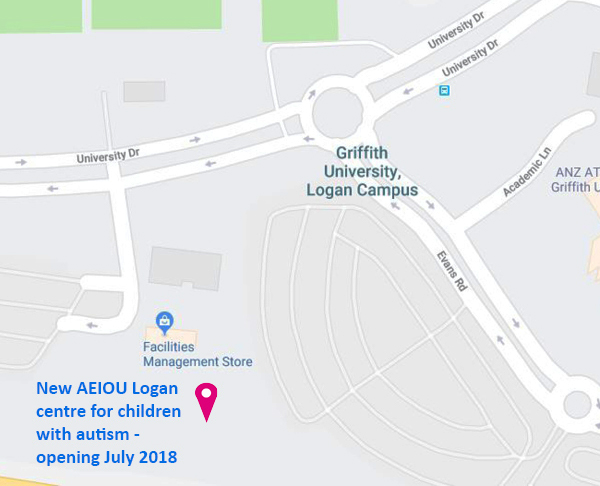 Press Releases
22 November 2017: First sod turned on Logan's new centre for children with autism
27 September 2017: Chain Reaction announces final charity partner recipients and funding allocation from 2017 events
4 November 2016: RDA Logan and Redlands congratulates AEIOU Foundation on receiving $1 million National Stronger Regions Fund (NSRF) Funding
6 October 2016: AEIOU receives $1 million for early intervention service in Logan
6 October 2016: Autistic children in Logan to benefit from new Griffith-hosted facility (Griffith University)
27 April 2016: Chain Reaction Queensland Challenge raises over $1 million

In Focus
From The Blog
21st May. 2018
Navigating the world of mealtimes for children on the autism spectrum can be...
From The Blog
08th May. 2018
Brisbane-based company Vuly has again donated one of their top-of-the-line...