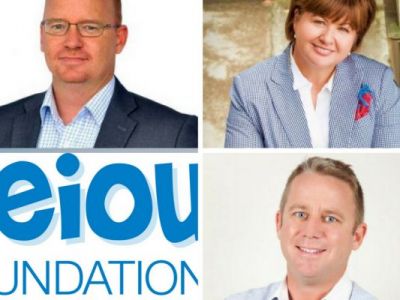 AEIOU Foundation is proud to announce the addition of three new members to its Board of Directors, welcoming Ben Deverson, Dayle Grant and Mark Algie to the organisation.
"AEIOU is in an exciting phase, with a new centre just opened in Logan, planning underway for a centre of excellence in Brisbane's north, and an expansion strategy which includes introducing our high quality early intervention service interstate," AEIOU Chairperson Susan Rix says.
"To meet our vision of being recognised as the leading provider of quality early intervention for children with autism and to ensure every child is given the best opportunity to reach their full potential in life, we recognise it is timely to introduce new skills and talent to help steer direction."
The new AEIOU Board of Directors includes:
Ben Deverson
Ben is a senior executive with 21 years' experience across numerous industry sectors including professional services, infrastructure, defence, resources and the public sector. He is currently the Managing Director and Chief Executive Officer of Hynes Legal, a boutique law firm based in Fortitude Valley, Brisbane specialising in Aged Care and Retirement living law and Body Corporate / Strata law. Before commencing a career in senior management, Ben was a graduate of the Royal Military College of Australia and served as an Australian Army Officer. Ben's executive experience has seen him navigate organisations through major change management programs and he is excited to support AEIOU's future strategy and operations in the NDIS environment.
Dayle Grant

Dayle Grant is an experienced Senior C-Suite Executive working across broad and diverse industries in banking, health insurance, tourism and energy in Australia and Asia Pacific and specialises in customer strategy, community engagement, executive leadership effectiveness, organisational culture and business transformation.
Dayle has undertaken diverse roles from Chief Customer Officer providing customer and community strategy, stakeholder engagement, corporate brand, marketing and community support, to Chief People Officer for organisations of 3000 people, and Head of Shared Services responsible for procurement, property, fleet and logistics. She has been a non-executive director in a not-for-profit customer organisation and chaired board committees. She is a member of the Chief Customer Officer Forum, Women on Boards and the Australian Institute of Company Directors. Dayle is passionate about building strong corporate cultures, and developing and advancing women in their careers, undertaking volunteer mentoring and coaching.
Mark Algie

Mark is a highly experienced human resources executive who has spent more than 15 years working across numerous sectors including defence, heavy engineering, construction, utilities, infrastructure and media.
He is currently the Managing Director of Human Outsource Pty Ltd which specialises in the provision of human resources and industrial relations advice, and the Director, Events and Custom Media for News Corp Australia.
Previously, Mark was the Human Resources Director with APN, Australian Regional Media reporting to the Chief Executive Officer of Australian Regional Media. He also spent four years with Tenix Australia in a number of HR appointments including as Manager Human Resources Infrastructure, and two years with Ergon Energy Corporation Limited as a Senior Employee Relations Consultant. He began his career as an Army Officer with the Department of Defence.
AEIOU CEO Alan Smith says each new Board Director brings values and knowledge in community engagement, philanthropy, and business development, and a commitment to help steer AEIOU's growth in a period of change and growth.
"We are sure to benefit from their knowledge and skills," Mr Smith says. "These three new Directors will enhance a Board which has seen AEIOU develop into a leading early intervention provider that is creating a lifetime of opportunities, and recognised as a strong voice and advocate for children with autism."
Tags: AEIOU Foundation, Board Of Directors, Ben Deverson, Dayle Grant And Mark Algie
Related Articles