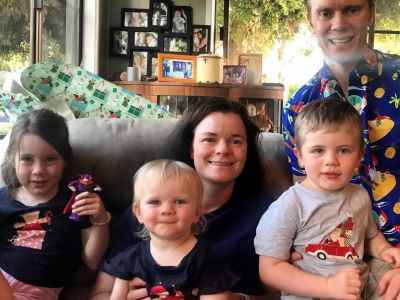 Ahead of Take A Hike Toowoomba, AEIOU's signature fundraising event in the Region, we asked local mum Anna to share how early intervention therapy has changed the life of her four-year-old son. This is Oscar's story. Written by Anna Salomon.
To begin with, Oscar was a happy and thriving baby. However, as he grew into a toddler his behaviour became more challenging. We noticed he wasn't developing typically – his speech was very delayed, we had trouble engaging with him, and he displayed very peculiar needs.
Oscar was frustrated all the time and would have meltdowns over minor things like a closed door or whenever I left the house. We never understood why, and he couldn't tell us. His constant anxiety and unusual play habits weren't typical either. It was really stressful!
Soon after speaking with clinicians, Oscar was diagnosed with Autism Spectrum Disorder (ASD) just before his third birthday. We felt overwhelmed and didn't know what to do. I did some research and read amazing reviews about AEIOU Foundation. Within months, Oscar was enrolled at the Toowoomba centre and it's been life changing since.
Oscar is the happiest we've ever seen, especially when he's at AEIOU. Even on weekends, Oscar wants to be there and asks to see his friends and the staff. He absolutely loves it. His verbal communication has improved significantly and it's a relief that he can now tell us what he wants.
With tremendous support from the AEIOU team, Oscar is now becoming toilet trained, something we could not have done alone! The team worked with us to develop and implement strategies at home to overcome the anxiety Oscar would feel whenever I left the house or a door was open. It's only been a year and we have noticed such a positive change in his development and attitude; we can't thank AEIOU enough.
It's easy to feel alone in this journey, but at events such as Take A Hike Toowoomba, it feels like the whole community comes out to support Oscar and other autistic kids. This annual event raises funds for play equipment and learning resources not covered by the NDIS.
We're inspired by Oscar every day and the progress he's made but we're equally inspired by the community and their kindness. Our family, friends and colleagues donated generously last year for which we are very grateful. Thanks to AEIOU, our day to day lives have improved significantly and Oscar's future looks bright.
Tags: Toowoomba, Autism Awareness, Early Intervention, Family Story
Related Articles