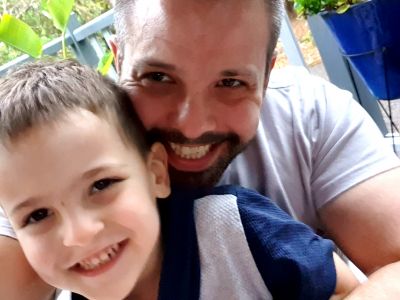 Written by Nick Ellis, proud dad of Levi (aged 4)
Levi developed typically up until he was about 12 months. It was then he stopped achieving the milestones he was meant to be. His Mum noticed it a lot quicker than I did. Me being me, I thought "he'll be fine," "he's a late bloomer" and "give him some time."
Levi was two and a half when he was diagnosed by a paediatrician with Autism Spectrum Disorder. It was instantly a relief for my wife. Having it medically recognised unlocked the support we could get for Levi. Even at that time though, I was still in denial. In my mind I thought "he'll be fine." It wasn't until Levi's third birthday when my wife put a post on Facebook that it dawned on me. This was real. It was a light bulb moment for me. Finding out your son's mind works a little bit different is difficult to deal with.
At the time of Levi's diagnosis we didn't know what to do, we'd never faced it before. AEIOU had been referred to us by a friend and it turned out to be quite coincidental, or not, that we were living nearby a centre.
Levi's been attending AEIOU for 18 months now and it's been lifechanging. We've learned how to teach him life skills and to better understand how his mind works.
When we first started at AEIOU our goal was to get him to a point where he could attend a mainstream school. We've realised now though, that's not the right environment for him. We think the longer he's at AEIOU the better, and we have NDIS funding until mid-next year. He'll be slightly older when he starts school but it's important we find the right environment for him.
Levi is making leaps and bounds. If you said to me six months ago, or even 12 months ago, that he'd be doing what he is now, I'd be in disbelief. Every two weeks he's coming up with something new.
We went camping on the weekend, for the first time! We were worried he'd run off with strangers and he doesn't toilet too well. We had a great time, and Levi was fantastic. His grandparents recently brought him his first bike and he's now madly riding around the house.
He's so much more vocal now than he was too. Something we've learned is that it's not that he can't do it. That's what I'm most grateful for. AEIOU has taught us how to deal with autism, how to teach Levi and give him the tools for learning for life.
People can underestimate Levi because he doesn't talk a lot and they think you must talk to him like a baby. That's just not the case. Levi's speech is all about motivation. He can recite the alphabet backwards if you're holding a chocolate ice-cream in front of him.
The other day we got an email from the centre saying he'd mastered eight single use instructions. I laughed out loud, because we know now, he's listening and understands every single word. We can issue complex instructions and if we've got his attention, he knows. And, our own thinking has changed - we don't have to do everything for him.
I love that Levi is just a happy easy-going kid. He loves blueberries and fruit, riding his bike and he is someone who doesn't have a worry in the world. That's a cool perspective that he's got.
For the future, deep down I know Levi is always going to be happy. He's in this little world which none of us understand what that looks like to him. He's obviously having a ball.
We're excited about Father's Day. We will likely have a family picnic, see the grandparents and go to the beach.
Tags: Autism Awareness, Early Intervention, Family Story
Related Articles