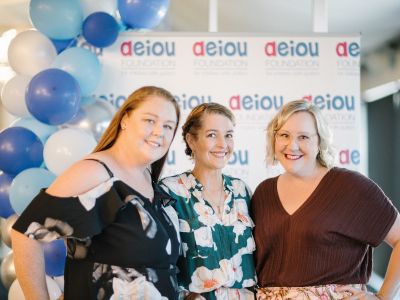 The mums of Jono, Paddy and Alfie, who received support at AEIOU Foundation's Nathan centre, recruited an impressive list of prominent Queenslanders for their Talking Heads Lunch last month. Thanks to their incredible efforts the event raised an remarkable $40,000.
Delighted by how autism-specific early intervention has changed the lives of their children, local mums Charmaine Wright, Clare O'Brien and Olivia Hatch brought a who's who list of prominent Queenslanders together to raise awareness and funds for children attending AEIOU.
Federal MP the Hon Bob Katter, Former Diamonds captain Ms Laura Geitz, Emmy award-winning Series Director Mr Rich Jefferey, former Queensland Minister Ms Kate Jones, Brownlow medalist Mr Simon Black, Former Wallaby player Mr Nathan Sharpe and Olympic gold medalist Mr Steven Bradbury OAM were just some of the names lending their support to the fundraiser.
"Paddy went from less than 50 words to speaking full sentences and speaks to Jono on the phone. He has also started playing rugby with Alfie every Saturday. Two years ago, before joining AEIOU, this would have been unimaginable," said Mrs O'Brien.
"As soon as people learn your child has autism, they immediately ask 'how can I help?' or 'what can I do to raise money' and when we tell them 98.5% of children who complete the AEIOU program improve their overall communication skills, they're even more willing to get involved. I think that's why we attracted such big names," added Ms O'Brien.
AEIOU Foundation Chief Executive Officer Alan Smith said it was terrific to see the community rally behind the cause. "It's a privilege to be chosen as a beneficiary for an event like Talking Heads Lunch, particularly knowing how little time parents of young children often have to spare, especially those with additional needs, in the day. It's testament to the generosity and community mindedness of families from AEIOU."