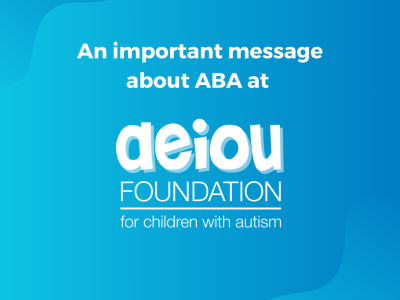 Applied Behaviour Analysis (ABA) is a topic that often divides opinion in the wider community.  It is most widely recognised as a therapy for children with autism and developmental disabilities. While this is one application, ABA is the broader than that. It is the science of human behaviour, and it is utilised in many areas of life, for all people. For example, organisational behaviour management, education, sports, and prevention of child maltreatment.

AEIOU Foundation strongly advocates for and respects the rights of every child with autism, as well as their individual strengths and unique qualities. It's important to us that every child, and every person with autism, is safe, has a voice that is heard and is valued. Every individual has a right to choose what interventions and supports they may want, with an emphasis on safe, respectful, reputable practice.

ABA is not a specific therapy but can be thought of as an umbrella term for delivering a variety of evidence-based teaching and behaviour support strategies. Unfortunately, like any therapeutic approach or profession, there are those who use unsafe practices that contravene ethical guidelines and the rights of individuals. Those that do this are not adhering to the principles of ABA and are putting the people they support at risk of trauma and abuse.

Access to timely and appropriate specialised early intervention provides children the skills to overcome the disabling aspects of profound autism so their strengths can support them to live their best lives.

At AEIOU Foundation, our early intervention service is comprised of strategies and supports that are proven to be safe and effective, following extensive studies that have been peer reviewed. Our practices are drawn from the disciplines of behaviour analysis, speech pathology, occupational therapy and early education. Some of the evidence-based behaviour analytic supports include positive reinforcement, modelling, task analysis, functional assessment and antecedent-based strategies. All of the interventions and strategies used at AEIOU are driven by play-based, ethical practice, family values and goals to help children reach their full potential.

We have a strong scientific foundation and evidence base for our program. We are NDIS registered and our dedicated research team collaborate closely with academic institutions and other relevant stakeholders in the sector to ensure that we adhere to the highest standards of practice.
We hold Australia's largest data source on children with autism under six with data from over 900 preschoolers and their families. It shows strong and consistent gains in early learning skills and adaptive behaviour of the autistic children receiving early intervention.
It also found that 75 per cent of our cohort gained these skills at a rate over and above a neurotypical peer demonstrating that early intervention is critical in helping autistic children catch up on their developmental skills.