AEIOU Brighton
AEIOU Foundation supports young children in the Adelaide community, providing an autism-specific early intervention program for children aged between two and six as well as a mainstream childcare service from six weeks to six years of age.
AEIOU first established its service in South Australia in 2014, and recently opened a new, purpose-built centre on King George Avenue, Brighton.
This project is made possible with the support of Minda, and a grant through the National Stronger Regions Fund. The $2.3 million centre houses four classrooms, therapy rooms, a motor skills room, covered outdoor play facilities and a parent's training room and retreat.
The program at AEIOU is based on a specialist curriculum which acknowledges the Guidelines for Good Practice 2012 and provides each child with a minimum of 20 hours of early intervention transdisciplinary therapy each week. The AEIOU team at Brighton is comprised of vibrant professionals who are passionate about providing best-practice programs to bolster the learning outcomes for children who attend our service. Every day is unique at AEIOU, and we wouldn't have it any other way!
AEIOU's Adelaide service was recently credited with "exceeding expectations" in the National Quality Standard for Early Childhood Education and Care and School Age Care Audit and, with our high-quality program and staff, we look forward to continuing to provide a high-quality service in South Australia.
Meet our AEIOU Brighton Service Manager
Carmen Wybrow
As the Service Manager at AEIOU Brighton, Carmen oversees the daily operations of our contemporary, purpose-built centre in South Australia. Carmen is responsible for managing the talented staff team, which is comprised of Early Childhood Teachers, Educators and our therapy team (a Behaviour Therapist, Occupational Therapist and Speech Pathologist). Part of Carmen's role as Service Manager is to keep abreast of relevant legislations and regulations relating to both children's education and care as well as the NDIS. As the Service Manager, Carmen strives to ensure that the children are provided with a rich learning environment and both children and families feel safe, secure and supported.
Prior to her role as Service Manager, Carmen was the teacher in the AEIOU Brighton autism-specific room, and have a deep understanding of the Early Intervention Program delivered at AEIOU. She holds a Bachelor of Business, a Bachelor of Education and a Diploma in Early Childhood Education and Care.
Carmen welcomes you to get in contact should you have any questions, require further information or would like a centre tour. Please contact her at (08) 8306 4900 or email brighton@aeiou.org.au. 
Read more:
Contact AEIOU Brighton directly: 
12-16 King George Avenue, North Brighton SA 5048
P 08 8306 4900 / 0432 860 871
Opening Hours: Mon to Fri, 7am-5pm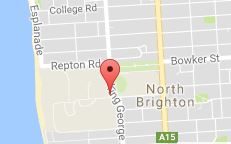 Our transdisciplinary approach 
At AEIOU Foundation, our program is consistent across all our centres.
Each child is provided access to a minimum of 20 hours transdisciplinary therapy each week (960 hours per year), provided by professionals who share responsibility in evaluating, planning and implementing supports to improve the capacity of each of our children with autism. Staff at each centre are overseen by a program manager, with the program directed through a centrally located AEIOU program coordinator team.
The program manager also implements the parent training program, which includes access to free workshops on topics most commonly requested, including behaviour, communication, mealtimes, toileting, transition to school, and more.
 AEIOU Brighton Location
On 27 November 2017, AEIOU Huntfield Heights relocated from its Lindisfarne Road address to new, purpose built facilities. The new service is located at King George Avenue, North Brighton, SA 5048
Press Releases
14 March 2017: First sod turned on SA's largest disability support precinct
Regional Development Australia Adelaide - 11 Successes