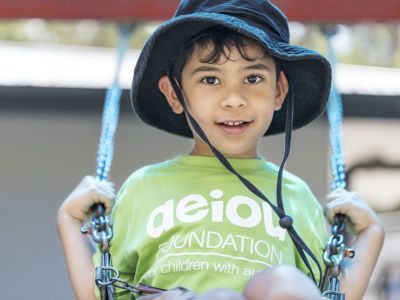 Details
Parents, caregivers, health and educational professionals are invited to explore our facilities, learn about our family-focused services and meet our specialist team. All rooms of our Early Learning Childcare will be open, as well as our autism-specific 'Turtle Room'.
We're also facilitating an introductory workshop which will provide tools and skills to assist in the home and community.
AEIOU for children with autism (Turtle Room)
Our evidence-based, early intervention program for children with autism aged 2 to 6 years develops essential life skills. A specialist transdisciplinary team delivers behaviour, speech and language, and occupational therapies. AEIOU is a registered NDIS provider, and we have a dedicated co-ordinator to assist families to access the Scheme.
AEIOU Early Learning Childcare
Visit our purpose-built Early Learning Childcare centre for children aged 6 weeks to 6 years. Our long-day care program offers families quality care by skilled educators, in small class sizes at affordable rates.
Parents & caregivers: As staffing level requirements prevent us from caring for visiting children, we request alternative arrangements are made for your children while attending our Open Day.