'Let's get awesome for autism' Family Fun Day
Campaign Details
Venue:
Kurilpa Point Park, South Brisbane (next to GOMA)
AEIOU invites all Brisbane families to celebrate Autism Awareness Month with a free family fun day at Kurilpa Point Park (near GoMA) in South Brisbane on Sunday 29 April.
The family fun day will focus around an activity-filled morning which kicks off with games by our friends at Ginger Sport, as well as a jumping castle, face painting, craft and food trucks. We'll move our feet to the beat of Hello Africa, who will bring Kurilpa Park to life with an interactive drumming experience. We'll also get to touch and appreciate some clever marine creatures, and learn all about them from our good friends at Ocean Life Education.
We're also proud to be welcoming special guest Federal Assistant Minister for Disability Services Jane Prentice, along with Seven News sports journalist Pat Welsh.
Attendees will also be able to pick up a copy of former AEIOU Bray Park parent Paulette Moser's new book, Turning Turtle, a firsthand account of the hardships and triumphs of parenting triplets, two with an autism diagnosis.
Everyone is welcome to this free community event and we encourage you to spread the word with anyone you feel may like to attend.
Let us know you're coming - by registering your attendance, you will give us a better idea of how many guests will join us, helping with catering and entertainment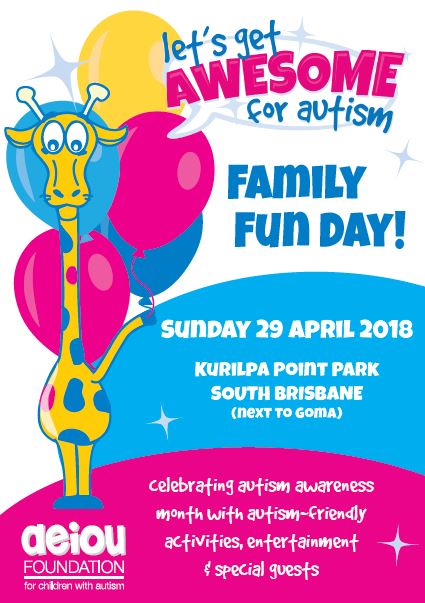 Click the pic to download/share poster