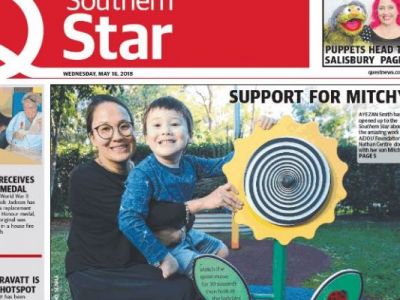 By Kristy Muir
Read the article in full HERE.
MITCHELL Smith may never know the anguish and pressure his mother Ayezan has felt trying to give her son the best start to life.
The four-year-old, who has autism disorder, will start Prep at a mainstream school next year – which is no easy feat.
The Parkinson mum credits a large part of Mitchy's school-readiness to the AEIOU Foundation for children with autism — Nathan Centre, which is holding an open day on May 17.
Mitchy, who is an only child, has attended AEIOU for 18 months
"I think he is ready ... you have to get them school-ready," she said. "It is a relief to know. We (as parents) can't teach them all the time.
"He gets therapy and he gets to learn to play with other children.
"He loves all the kids and the staff are fantastic — they actually care about the kids."
Mitchy was diagnosed at two years and 11 months old and has trialled "all the ­therapies".
"He is literal and concise. He has the best memory," Mrs Smith said.
"Mitchy has a big personality — he is bubbly, happy and very loud.
"I think he will be mathematical and scientific."
AEIOU Foundation Nathan service manager Sarah Sword said the open day was a great opportunity for families to gain insight into early intervention.
"If you have a child with autism, or if you're going through the process of receiving a diagnosis, I encourage you to join us on the day," she said.
"You'll have a chance to learn about how the ­program works, see the centre and meet some of our therapists."
Ms Sword said as well as the centre tour, parents and carers could join a free introductory workshop, Understanding Challenging Behaviours, during their visit.
"We host regular workshops at each of our centres, and it's valuable to tap into this support while on the waitlist for our service," she said.
"Our Nathan centre is one of the next sites to rollout under the NDIS, so we encourage families who are interested in our program to make contact with us."
AEIOU Foundation is a leading provider of full-time early intervention for children with autism.
Children at AEIOU foundation receive support from a team of occupational therapists, speech pathologists, behaviour therapists and teachers. Enrolments for 2019 are open.