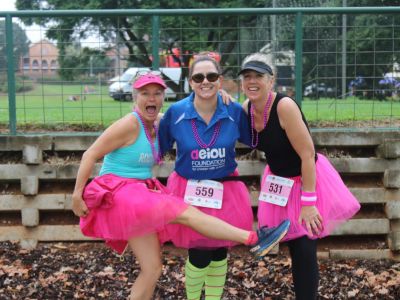 Over 300 families, local businesses, and community leaders broke fundraising records to raise an outstanding $58,000 for children with autism at Take A Hike Toowoomba in March.
Donning their brightest pink and blue workout gear for the event at Toowoomba Grammar School, locals well and truly answered the call to support children with autism, according to AEIOU Foundation Chief Executive Officer, Alan Smith.
"In the 11 years of Take A Hike Toowoomba, we have continuously been delighted and humbled by the support and generosity within the Toowoomba community. This is especially true this year with our donors exceeding the fundraising target of $40,000," said Mr Smith.
For local nurse Tamara Blackey and Antony's Bakery and Patisserie owner Tony Blackey the generous efforts of the community go a very long way for their son Ethan.
"Ethan was diagnosed with non-verbal autism at two and a half years old. We needed to access so many different specialist from speech therapy and occupational therapy to behaviour therapy, which is very difficult in Toowoomba given the shortage of specialists here," said Mrs Blackey.
"Without AEIOU, Ethan wouldn't have had the life skills which enable him to have a bright future. To access world-class support right here in Toowoomba has been life-changing for Ethan and our family."
AEIOU Foundation Toowoomba Centre Manager, Sandy Peachey said the first fundraising event of the year for the Foundation would help purchase play equipment and educational tools to enable the team of specialists to provide the best support for local children and families.
"Every cent raised through 'Take A Hike' will be used by our centre to help deliver life changing programs, to help children like Ethan in their early childhood developmental stage," said Mrs Peachey.