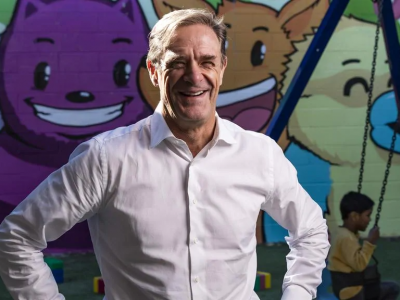 The Premier's Queensland Greats Awards recognise the efforts and achievements of remarkable individuals and institutions. AEIOU Foundation Founder and Patron, Dr James Morton has received the honour of a Queensland Great Award, in recognition of his legacy of work with AEIOU Foundation, the Leukaemia Foundation and ICON Cancer Centre.
Dr James Morton is a father of three, an accredited specialist in Haematology-Oncology, Medical Director and former Board member at Icon Cancer Care and Senior Specialist in Leukaemia and Bone Marrow Transplant Services at the Royal Brisbane and Women's Hospital. Above all, he is a passionate advocate for children with Autism Spectrum Disorder (ASD) and is the Founder and previous Chair of AEIOU Foundation for children with autism.
Dr Morton's experience with autism began when his son Andrew was diagnosed with autism at the age of two. Following Andrew's enrolment in an early intervention pilot program run by Education Queensland, Andrew's behaviour improved remarkably. However, the centre closed in 2003 and Andrew, along with the six other children who attended, went to the local special school. The teachers and aids worked hard with Andrew, but lacked the training and expertise in autism and the progress he had made, was lost.
Dissatisfied with the fact that Andrew, and thousands of children like him, had no opportunity to attend an early intervention facility dedicated to children with autism, Dr Morton and his wife Louise decided to develop a service that would provide the same level of care to children like Andrew. A small group met together in the Mortons' home to address this and AEIOU was born.
In February 2005, AEIOU opened its first centre in Moorooka solely for intensive early intervention learning program for children with autism. Today, 15 years on, AEIOU has 10 centres supporting over 250 families every year. Establishing AEIOU Foundation has provided thousands of families with quality, affordable therapy and care for their young child with autism. Raising a child with autism isn't easy; it can be isolating and many fear the future.
Dr Morton takes a whole-of-life approach to providing the best opportunities for children with autism. His vision is to see every young child with ASD in Australia able to access high quality, evidence-based early intervention.
He is a strong advocate for children with autism to receive adequate funding that allows families to access the requisite early intervention for their children. Dr Morton engages with and lobbies governments at all levels to ensure the needs and rights of children with autism and their families are addressed, most recently regarding the National Disability Insurance Scheme. He encourages universities to provide adequate training for teachers in this field, and for governments to adopt the cost-benefit analysis of adequate investment in the early intervention, which shows an 11:1 saving of taxpayer dollars.
Autism affects 1 in 100 people in Australia which is why research, best practice and knowledge sharing are critical to continuously improve. Dr Morton is focused on providing evidence-based early intervention and AEIOU is a key funding partner for the Autism Cooperative Research Centre, the world's first national cooperative research effort focused on autism.
In his pursuit of evidence-based practice, Dr Morton inspired the establishment of the Griffith University Autism Centre of Excellence (Griffith ACE). Under Dr Morton's leadership, AEIOU Foundation established a Research Advisory Group, a scientific collaboration between the research and education departments at AEIOU and individuals from external agencies who have expertise and interest in ASD.
Dr Morton is an extraordinary and inspirational leader. Through his hard work, passion and tireless effort, he has changed the lives of thousands of children and their families living with autism.
Congratulations Dr James Morton, AM: a true Queensland Great.


Image: Mark Cranitch for The Courier Mail's QWeekend.