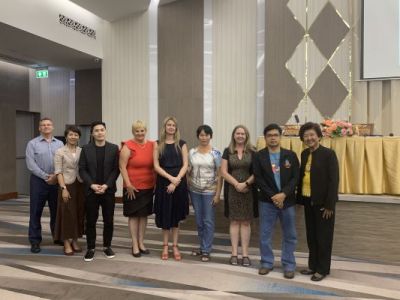 Research and Assessment Manager Madonna Tucker and Head of Clinical Delivery Claire McIvor were recently invited to speak at the conference for the Autistic Thai Foundation (Autism Parents Association in Thailand) as part of their World Autism Day campaign.
The pair were two of five international speakers and presented in two capacities. The first was a special lecture on "autism-specific early intervention", where Madonna spoke about what early intervention is and the essential elements to an early intervention service. She also provided examples of early intervention services and programs (including AEIOU) from Australia. The second session was a panel discussion on "Education System at Service Centre Level". This presentation by Claire highlighted AEIOU and discussed curriculum and process issues surrounding how we implement our program.
On the final day of the conference, both Madonna and Claire attended an official opening of a new vocational training centre, funded privately by True Corporation, a communications conglomerate in Thailand. The Autistic Thai Foundation also presented a number of awards as part of World Autism Day celebrations.
From all reports, it was an amazing opportunity and AEIOU was very well-represented and highly respected.