Tim Sharp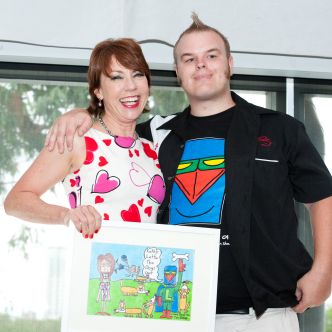 Artist and AEIOU Ambassador

Tim Sharp is 25 years old and has Autism. He is both a good friend and Ambassador for AEIOU Foundation, and has supported AEIOU to raise awareness about autism and raise vital funds for early intervention. Tim has created, and donated many original artworks for auctions and special gifts, and has supported public art displays commissioned by AEIOU, including lighting the William Jolly Bridge blue as part of an international autism awareness campaign in 2012 and 2013.
Tim was diagnosed when he was three, and such were Tim's enormous difficulties that the doctor's advice was "that the best thing to do was put him away and forget about him." Rejecting the prognosis, intensive therapy began immediately and bravely Tim tried to overcome what was so terrifying and difficult for him.
Drawing was used as a way of helping Tim to communicate. Tim did learn to speak, and at age 11 he invented Laser Beak Man, who allows Tim to show the world his great sense of humour and intelligence as well as his quirky way of looking at life.
At age 16 Tim was the only Australian selected by a jury in the young adult drawing category for the VSA (Very Special Arts) Festival in Washington DC. Founded 30 years ago by Ambassador Jean Kennedy Smith - sister of President John F. Kennedy - VSA is the largest art festival in the world for people with disabilities. Acceptance to the festival was an extraordinary achievement and the story of Tim's trip to Washington DC was told on the ABC's "Australian Story."
In 2012 a short film about Tim was shown at the Metropolitan Museum of Modern Art in New York City. In August 2012 Tim travelled to Nashville Tennessee to meet friends and collaborators young rock band The Ghost Ballerinas, who put on a music festival, The I am What I Am music festival inspired by their work with Tim, who created their album cover, the band also wrote the Laser Beak Man song available on itunes. The festival was to raise Autism awareness.
Now Tim has had another dream come true, as Laser Beak Man has his own 8 episode animated series screening on ABC3TV, Cartoon Network Asia, New Zealand and Australia, in a world first for a young man with Autism to have his creation turned into a television series.
In Focus
From The Media Releases
12th Jul. 2023
AEIOU Foundation will expand the reach of its leading autism early intervention...
From The Blog
19th Apr. 2023
Read the Williams family story and how AEIOU helped change their lives.