I've got this Mum, I'm a big boy now - Todd & Sally Lowrie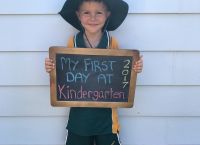 There is no pride quite like watching your child happily march off to their first day at 'big school' with the words "I've got this Mum, I'm a big boy now". For retired NRL premiership winner Todd Lowrie and wife Sally, it was a day they had originally envisaged very differently, had it not been for AEIOU Foundation. Todd uprooted his career and family from New Zealand to enable Sonny to attend AEIOU's Nathan centre in 2014. After just 12 months in the program, Sonny successfully transitioned to a mainstream kindergarten and is now thriving at school.
Being our first child, we did not know what was normal or what to look out for. Sally had some initial indications he was not developing typically in terms of his verbal communication. There were also other tell-tale signs, as we now know, such as not responding to his name or giving eye contact. We could see the frustration in his eyes and, after a lot of research, sought a diagnosis. Hearing the word 'autism' was the catalyst for so much uncertainty and change but it also lead to some of the best times of our lives.
At the time of Sonny's diagnosis, we were living in New Zealand for my work. We exhausted every resource the country had to offer and then we started looking further afield, namely back home in Australia. We stumbled across AEIOU through some friends and realised the service they offered far outweighed anything we currently had access to. We felt strongly AEIOU was going to be the option to give Sonny the best start in life.
We cannot speak highly enough of AEIOU and the staff and facilities there. From the day we flew into Brisbane for our first interview right through to Sonny's graduation, the support we received was fantastic. I do admit it was difficult for us to adjust to our little boy attending a program full-time at just 2 ½ years old, but lucky for us, he was happy to go along with it and thrived in his new environment.
The biggest achievements we saw during our time with AEIOU were definitely the development of communication, social and toileting skills. When Sonny started, he was barely talking. Also, small things people take for granted, such as saying hello to others when you walked into a room, we struggled with. However, with PECS, he started coming forward in leaps and bounds. We worked hard with our son at home, as well as supporting his learning at AEIOU.
After 12 months with the program, we made a decision in conjunction with the staff that Sonny had obtained enough skills to smoothly transition to mainstream kindy, and we have not looked back. That was at the end of 2014, and now, in 2017, we are successfully navigating 'big school' back in Newcastle, NSW. Like all parents, we had our hesitations but Sonny absolutely loves it. He walks into the classroom and talks to the other kids. We are so happy he can go to a mainstream school and just be a little boy. Above all, it has taught us to be confident in our children and echo that confidence to them because they feed off what we think and feel.
For those families just beginning their journey, we wish you all the very best, from the bottom of our hearts. Have faith in early intervention and continue the hard work at home. I know they already spend many hours in the program each week, but to make real progress, you need to be reinforcing those teachings on the weekends as well. Success is very much a team effort.
By Todd Lowrie
A note from us: In order to attend AEIOU Foundation, Todd Lowrie left his position with the New Zealand Warriors to relocate to Brisbane. He was signed by the Brisbane Broncos, where he played for the duration of Sonny's early intervention. As well as working with Todd to maintain his successful career, the Brisbane Broncos are a valued supporter of AEIOU Foundation, helping us create a lifetime of opportunities for children with autism like Sonny.
Back to Stories
In Focus
From The Blog
09th Jun. 2021
The children at AEIOU Sippy Downs were ECSTATIC when the team from Vuly...
From The Blog
23rd Apr. 2021
Before starting at AEIOU in August last year, Blair's family believed that...